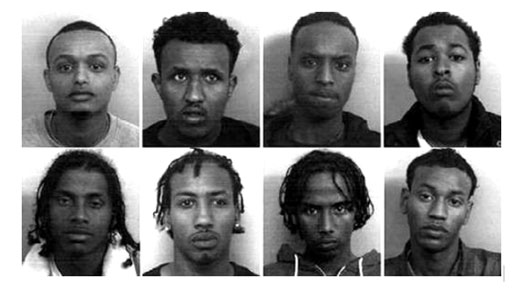 Seven Somali men in the United Kingdom were recently found guilty of child sex crimes that revolved around the organized abuse, rape and forced prostitution of several British teenage girls. The convicted men, who were part of an inner-city sex ring, were responsible for grooming and abusing girls aged between 13 and 17 over a period of two years. They have now been sentenced for a total of 40 years and six months.
During the two years, these men convinced the girls that this kind of abusive behavior was not only a part of their "culture and tradition" but also a "religious requirement." They often cited the Prophet's infamous marriage to Ayesha that involved her being raped when she was just a little girl. The victims were made to believe they were in "relationships" with their groomers and it was absolutely normal for them to have sexual relations with their "boyfriends'" "friends".
One of the defendants had forced a victim to be raped by his younger brother after finding out he "wanted to turn gay". To save his brother from going to hell, the defendant contacted one of the seven Somalis for a young girl who could be raped.
Said Zakaria, 22, was sentenced to 11 years for raping and having sex with a child. While sentencing him on November 28 at Bristol Crown Court, Judge Julian Lambert said Zakaria showed utter disregard for the girl he had abused.
"You were merciless. I will show you no mercy, nor should you receive it," Lambert said.
Mohamed Jomale, 24, was sentenced to 10 years for raping and having sex with a child.
Lambert said, "She cared deeply for you, love flowed only one way, you reciprocated with only lust on your part. The law is there to protect girls being sexualized. You dominated a girl who was far too young."
Jusuf Abdirizak, 20, was sentenced to seven years and six months for raping a child, Sakariah Sheik was sentenced to four years for raping a child, 21-year-old Abdirashid Abdulahi was sentenced to four years for raping a child, 20-year-old Omar Jumele was sentenced to two years for having sex with a child and Mohamed Danir was sentenced to two years for conducting child prostitution.
During the investigation, Abdirizak had been recorded on a closed circuit TV camera in a hotel room, where a 13-year-old girl was eventually raped. He was described as acting inhumanely.
Lambert told Abdirizak, "I assess you as being responsible for an opportunistic rape which you perpetrated on a little girl of 13 who had been recruited for a sex party at a hotel. When a 13-year-old girl was left bruised and battered by two rapes by another, you took her by force. It was cynical, callous, and very nasty. You were merciless. You behaved with without humanity and with no pity whatsoever."
This high-profile case involved two trials that took place at Bristol Crown Court after an investigation coded Operation Brooke was carried out, ultimately leading to the conviction of 14 men who were charged with drug offences and child exploitation involving 10 victims. In June, eight of them were sentenced for more than 70 years and the remaining seven were sentenced on Friday. One of the men appeared in both trials.
Photo Credits: The Independent