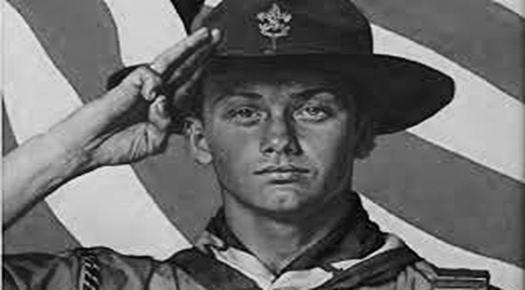 Photo Credits: BSA troop 883
The Boy Scouts of America (BSA) is the largest scouting organization and one of the largest youth organizations in the United States, with about 2.3 million youth participants and about one million adult volunteers. The stated mission of the Boy Scouts of America is to "prepare young people to make ethical and moral choices over their lifetimes by instilling in them the values of the Scout Oath and Law." Now, nearly 700 men are planning to sue the Boy Scouts of America for "hiding abusers" who sexually assaulted them and "enabling" those abusers to continue preying on boys.
"You couldn't design a better place for pedophiles," Kosnoff said. "You're putting men you know virtually nothing about in close proximity with young boys away from their parents in the woods."
John Campbell joined the Boy Scouts and his mother had so much trust in his scoutmaster that she allowed her 12-years-old son to sleep over at the 30-year-old's house the night before the two embarked on an early-morning sailing trip in 1982.
That night, the Scout leader plied Campbell with alcohol, telling the 12-year-old to sleep in bed with him. He started to touch Campbell. "My first sexual experience was being raped," Campbell told The Denver Post.
Abuse in the Boy Scouts gained national attention in 2012 when the Los Angeles Times published a series of stories and a database known as the "Perversion Files" — an internal, previously secret list of volunteers banned by the organization on suspicion of sexual abuse dating back to the 1940s. The list included more than 5,000 men and a handful of women. An unknown number of files, however, were purged by the Boy Scouts before the 1990s.
In April, court testimony from a researcher hired by the Boy Scouts to review its files showed that 12,254 children were allegedly abused by 7,819 Scout leaders over the past 80 years.
"This organization is so full of child molesters that if you weren't sexually molested in scouting, you were just lucky," said Tim Kosnoff, the attorney who gathered the claims. "The Boy Scouts should not exist anymore...We felt an urgency to move," Kosnoff said. "Once they file (for bankruptcy), it will be impossible to publicly identify these abusers."
As the Denver Post reports, attorneys for the former Scouts have not said when they plan to file the lawsuit, but they are racing against time because the Boy Scouts are facing financial trouble and may file for bankruptcy protection.
Marci Hamilton, a child abuse expert and CEO of Child USA, said that child sexual abuse victims often have a combination of physical and psychological illnesses. Victims endure much higher rates of depression, substance abuse and addiction, she said. They have higher rates of failing to live up to their potential and on average have lower education levels.