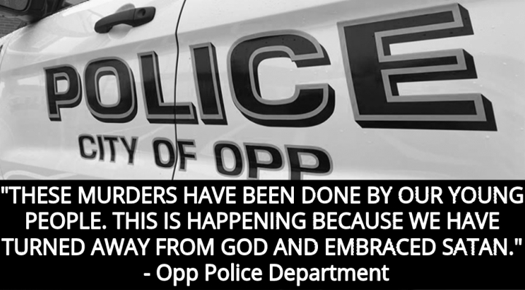 Photo Credit: Patheos
The Opp, Alabama Police Department posted an announcement to social media on Dec. 18 that reports two murders, then blames nonbelief and Satanists for a rise in violent crime in the area. Their post on Facebook, that has been removed later, says:
THIS PAST SUNDAY, A YOUNG MAN WAS SHOT AND KILLED IN KINSTON. MONDAY NIGHT, A MOTHER WAS SHOT AND KILLED IN NORTHERN COVINGTON COUNTY. THERE HAVE BEEN FIVE MURDERS IN COVINGTON COUNTY IN 2018. THESE MURDERS HAVE BEEN DONE BY OUR YOUNG PEOPLE. THIS IS HAPPENING BECAUSE WE HAVE TURNED AWAY FROM GOD AND EMBRACED SATAN. WE MAY HAVE NOT MEANT TO DO SO BUT, WE HAVE. IT IS TIME TO ASK FOR GOD'S HELP TO STOP THIS…
The Freedom From Religion Foundation (FFRF) is now calling for retraction in a letter to the Chief of Police Michael McDonald. In mail sent to Mr. Michael McDonald, FFRF's Assistant Chief wrote that FFRF has received multiple citizen complaints about a December 18 post on the Opp Police Department Facebook page that begins by announcing the tragic deaths of a young man in Kingston and a mother in Northern Covington County. FFRF is asking the department to take down its promotion of religion (and contempt for one specific religion – Satanism) and cease including religious remarks in social media posts.
FFRF Associate Counsel Sam Grover comments: "The department has very directly endorsed one religious ideology to the exclusion of minority religions and atheism, and decried Satanism. Neither message is permissible."
FFRF's letter challenges the police department's faulty assumptions and stereotypes regarding atheists. "It is negligent for the department to spread a message of prejudice against those who choose not to believe in or worship a god. The department certainly has no data to support its theory that a rise in violent crime is caused by those choosing to turn away from god belief. Numerous scientific studies prove otherwise."
"It is the height of hypocrisy to call for a reduction in crime through an act that itself breaks the law," FFRF contends.
"Police officers take an oath to protect and serve all citizens, including those who practice a minority religion or no religion at all," says FFRF Co-President Annie Laurie Gaylor. "This inappropriate post sends a chilling message to non-Christians and non-believers that they are presumed guilty."