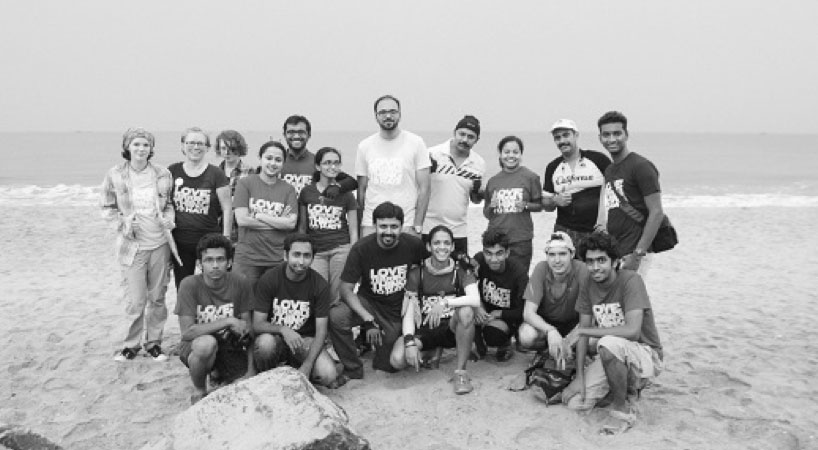 On February 12, bikers in the Indian state of Kerala launched the "Pride Ride" to promote awareness of LGBT rights and fight homophobia in India. The bikers rode an estimated 100 miles (160 kilometers) from Edapally in the city of Kochi to reach the VIBGYOR Film Festival in Thrissur. This campaign comes in the wake of the reinstatement of Section 377 of the Indian Penal Code, which re-criminalized homosexuality in India and made it a more dangerous environment for gay and lesbian Indians to live free and safely.
The "Pride Ride" was organized by Christin Emmanuel George and Ajay Appaden within six days. It commenced on 5 am on February 12, running northwards through Kerala. The journey was undertaken in scorching heat and challenging terrain on bicycles, motorbikes and escort cars. Upon arrival, the 19 riders received a warm welcome at the film festival and addressed the audience.
"Our campaign was for LGBTS rights, the 'S' standing for straight, the idea behind it being that we were all on the same team and we didn't want a divide to come up in the name of a community being different," says Ajay Appaden. "We were fighting for human rights after all and LGBTS was just another way of saying it."
"Major Human Rights Issue"
The "Pride Ride" was conceived and organized in two meetings at a coffee shop in Kochi. Initially intended as a "Pride Movathon" in the city of Kochi itself, plans were changed after the organizers learned of the VIBGYOR festival being held in Thrissur. With just a few days left to make it to the festival, the organizers threw open the event on Facebook and received a strong response of support from within India and other countries. What was supposed to be an event involving 3-4 people expanded suddenly. The "Against Ignorance" and "Love Is A Terrible Thing To Hate" t-shirts were designed and rush-printed barely a day before the ride began. Most of the participants were atheists, but they were also joined by some religious individuals who supported the cause.
Ajay, who describes himself as a "a devout Pastafarian and priest of the church of bacon," said, "A joke that went around the riders that day was that despite a majority of us being atheists, we had the best riding weather we could ask for despite the scorching hot days that preceded and followed the day of the ride. If we were religious, we'd have believed that it was a sign indeed."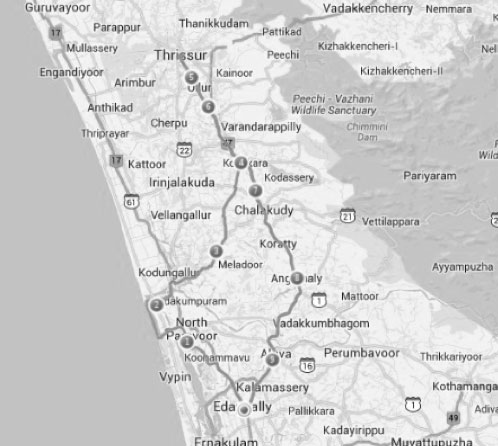 16-year old Varkey Parakal from Kochi was the youngest rider and said the mission of the event was "to get people talking about this issue."
"Other than during the first couple of days after [Section 377] was passed, no one seemed to be interested in the topic," said Varkey. "We wanted to get people talking about it as a major human rights issue."
Section 377 of Indian law criminalizes homosexual acts and subjects gay Indians to prison terms of anywhere from 10 years to life imprisonment. Many Indians are unaware of the facts about homosexuality, the law and its ramifications for the LGBT community, which makes it easier for religious extremists to target the community for persecution. Various religious leaders – Hindu, Muslim and Christian – have railed against homosexuality as an "imported disease."
Christin George challenged such attacks on the LGBT community: "Someone told me that fighting for gay rights is a trivial matter. That it is something that is cropping up as part of 'a misguided action from western culture.' I beg to differ, a LOT. If anyone of us wants to call ourselves unique, that just proves that there is at least one thing that a group of people can use against me... If we do not fight for the minority, it means anyone can be marginalized in the blink of an eye."
LGBT rights activists and "Pride Ride" participants have identified threats from vigilantes of religious and nationalist organizations as the main threat to safety of gay individuals and LGBT events. An environment of hostility and indifference makes it impossible for most gay Indians to openly identify themselves.
"The LGBT community in India, especially Kerala is still living in the closet," said Varkey. "The social conditions here are very harsh for them to come out. [The media] refuses to talk about any issues related to the LGBT community."
However, the "Pride Ride" is evidence of a groundswell of support from liberal-minded and young Indians, and growing numbers of 'straight' Indians who are determined to act against homophobia and for equal rights. The organizers of "Pride Ride" aim to undertake future campaigns to promote awareness that encourage greater public participation and free discussion about homosexuality and gay rights.
While acknowledging the pervasiveness of ignorance and religious bigotry, Ajay Appaden said "We do still have hope, which is why we still fight."
Courtesy of C.E. George
Hindu Fascists Attack Thrissur Film Festival
The VIBGYOR Film Festival in Thrissur showcased films on LGBT rights and other human rights issues. The theme this year was "Gender Justice" and it hosted a conference "Against Cultural Fascism." The threat against the festival from religious vigilante groups turned into grim reality when the festival was attacked by a mob of 70-odd men from the Hindu far-right Rashtriya Swayamsevak Sangh (RSS) and the Bharatiya Janata Party (BJP), who attempted to destroy the film projector and other equipment. They were opposing the screening of a documentary on Kashmir, but were resisted by the 400-strong audience, which prevented them from stopping the festival. Although policemen were already present to provide security at the event, they made no effort to stop or arrest the rioters.
Participants at the film festival denounced the RSS as "cultural fascists" who were dedicated to suppressing the constitutional right of free expression. An official complaint against the leader of the mob, BJP Thrissur District president A. Nagesh and 50 other men has been lodged with the police of Thrissur.
Photo Credits: C.E. George and Ajay Appaden