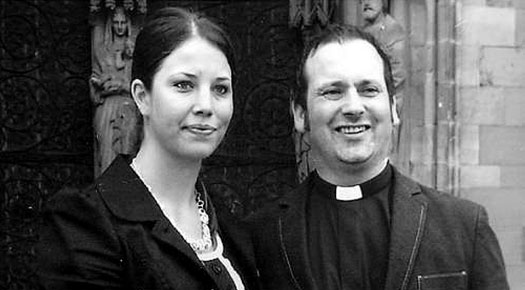 A married priest from the Church of England recently lost his job and his home after being found guilty of having an extramarital affair with a parishioner. The 40-year-old Reverend Stephen Vincent said his family was "on the brink" after he was removed from office for having an illicit relationship with a woman he was supposed to mentor.
Vincent and his 30-year-old wife Erin, who have three young children, have decided to resolve the matter and stay together however. While speaking with the media last week, she said she had been taught to forgive and was of the belief that every person deserves a second chance.
Vincent and the woman he had his extramarital affair with were introduced at St. Giles Church in Newcastle under Lyme, after the latter expressed an interest in joining the clergy. The two went on to exchange thousands of messages over a period of three months, most of which were rather lewd and revolved around underwear and sexual acts.
A specially convened disciplinary panel reviewed the exchanges under the church's supervision after Vincent's archdeacon lodged a complaint. The panel heard that the two accused met at local pubs and participated in adultery during at least two liaisons in Newcastle in 2012. Even though evidences suggest the first sexual encounter took place in an alleyway, Vincent clarified the place was a courtyard. The second encounter allegedly took place at the woman's home after she sent Vincent a text message saying, "I'm home, now come and get me," to which he replied saying he would have to leave immediately after.
Last week, Vincent's wife, who met her husband 10 years ago, said she had gone through all of the texts and believed he was deserving of a second chance.
"Our relationship was unstable at the time," she said. "I can see how much he regrets it and I don't think he needs punishing further. Steve is an amazing person who has made some silly decisions. We have three gorgeous children who mean the world to us, and we both stay strong for them."
Vincent started preparing for priesthood in 2008 at Wescott House, a Christian theological college under Cambridge University. He had earlier worked on schemes to rehabilitate former prisoners and projects related to counseling drug addicts. In 2010, he wrote a short biography as the pastoral assistant of a church in Cambridge, saying he devotes his spare time to his family. In 2011, he joined St. Giles as a curate before moving into a nearby semi-detached house in Newcastle, which belonged to the church, along with his wife.
A year later, he was introduced to the woman with whom he went on to have his extramarital affair, after being told she was interested in exploring a ministry within the church. The vicar at that time had suggested she shadow Vincent. The woman, who too was in a relationship at that point, sent a text message to Vincent on April 25, 2012 to introduce herself. This was the very first of the long string of messages the two would eventually go on to exchange.
"Within two days the texts had become flirtatious," said a statement by the Lichfield Diocese's disciplinary panel, whose chairman, Geoffrey Tattersall, is a lay canon at Manchester Cathedral.
Reportedly, on April 27, Vincent sent the woman a text message saying she should send her partner and kids to the park so she can sip some red wine while in the bath and "enjoy herself." The two went on to meet at a local pub in May and within a month, the text messages between the two had turned sexually explicit. They went back to the same venue in June, when Vincent said he might have kissed her. Apparently, she followed up on the incident by sending Vincent a photograph of herself wearing nothing but her underwear. Three days after Vincent was ordained as a priest, the two met at the same bar before heading out to a courtyard where they participated in consensual sexual intercourse, according to the investigating panel. In July, the woman apparently made it clear that she wanted to have sex with Vincent and invited him to her place, where she greeted him in a silky camisole and knickers. However, she later alleged that she had been raped, a claim Vincent has refused to accept.
Vincent, who hails from Northern Ireland, has been barred from acting as a priest for at least eight years. The panel said they still had not decided if he would be able to return to active ministry thereafter. Vincent is now claiming unemployment benefits, saying he has no place to go, once his family is made to leave the house that was earlier allocated to them by the church.
Referring to the affair as "a huge, stupid mistake", Vincent said, "It has been devastating. In one day I lost my home, my job, and in some ways I nearly lost my family as well. We have been on the brink of breaking up and it is the thing I regret most in my life. … She [his wife] is incredibly strong and has been remarkably gracious and I owe her everything. We are together but it is down to her and her fortitude really."
David Wildman, a 67-year-old member of the parochial church council, said not many parishioners knew why Vincent was removed from his post all of a sudden.
"We liked the guy and we were really pleased to have him," he said. "When the Bishop of Stafford came to tell us that there was a problem we were taken by surprise and wondered what it was all about. We were shocked when we heard he had been suspended. We never knew any details. They were kept very close."
A spokesperson from Lichfield Diocese said Vincent had betrayed his wife, family and church and that the diocese was going to continue offering everyone but Vincent the support they need to get through this phase.
Photo Credits: The Telegraph