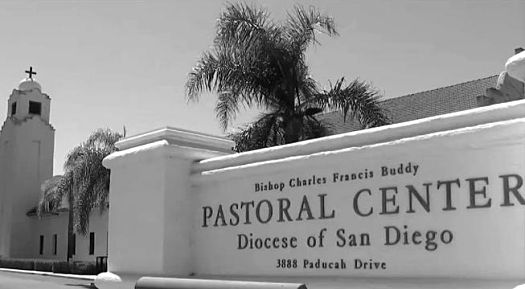 Photo credit:California Catholic Daily
San Diego Catholic Diocese priest has been accused of inappropriately touching an adolescent girl. The third investigation against Reverend Justin Langille found some new evidence and San Diego Catholic Diocese suspended him over credible allegations of sexual misconduct. The first and the second investigation resulted in Langille being cleared of allegations that he had sexually abused a teenage girl; but after the third investigation, evidence that undermined the priest's alibi showed that the allegations are credible. Langille stopped short of sexual intercourse so his actions have been characterized as a clear "boundary violation."
"I felt strongly that even older, previously decided cases involving currently serving priests would benefit from being examined by the Independent Review Board," Bishop Robert McElroy said in a statement released by the diocese Tuesday. "The voice of the laity needs to be heard on these matters..." The review board, which includes lay attorneys, criminal investigators, psychologists and a clergy abuse victim, offers "exceptionally valuable guidance and expertise," McElroy said to the San Diego Union Tribune.
The first time the case was examined in 1995 when diocesan officials could not find evidence to support or prove the allegations. Seven years later, in 2002, the case was re-examined because of the clergy sexual abuse scandal in Boston; but it was eventually closed after Langille passed a polygraph test. After the Pennsylvania grand jury report that found 300 priests accused of sexual abuse was released, Bishop McElroy asked the board to reconsider cases dating back before 2004, at the time when the board was not yet established. Independent Review Board recommended suspension after some new information emerged which cast doubt on the credibility of Reverent Langille in his denials.
As San Diego Union Tribune reports, the Independent Review Board, despite its name, is not truly independent, according to its critics. "They are appointed by the bishop and the bishop does not have to follow the boards' recommendations," said Tim Lennon, president of the Survivors Network of those Abused by Priests (SNAP). Lennon and other SNAP representatives recently met with California Attorney General Xavier Becerra, urging him to launch an official investigation of the state's Catholic dioceses, similar to probes launched by the state attorney general of New York. Relying on a diocese to police itself, Lennon said, is naïve. "This is happening because the bishops are feeling the heat," Lennon said of internal reviews like those being conducted by the San Diego diocese. "They need to feel the heat."
Langille is not holding a full-time job within the diocese but he had been assisting during weekends at St. Therese in San Carlos and Ascension parish in Tierrasanta. Both churches will announce his suspension.