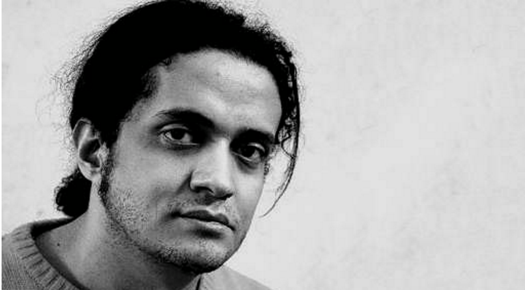 Poets from across the world are coming together to show solidarity for Palestinian poet Ashraf Fayadh, who was sentenced to death last month for apostasy by Saudi Arabian authorities. Syrian poet Adunis, Irish poet Paul Muldoon and Britain's poet laureate Carol Ann Duffy were part of the group that signed a letter expressing shock at the penalty handed down to Fayadh.
35-year-old Fayadh, a leading face of Saudi Arabia's burgeoning contemporary art scene and a key member of the British-Saudi art organization Edge of Arabia, was sentenced on November 17 for renouncing Islam, a charge that he has repeatedly denied. After the retrial, the court ordered his execution, thus overruling the original sentence, which constituted four years in prison and 800 lashes. The panel of judges hearing his appeal ruled that the poet, who has curated art shows in Jeddah and Venice Biennale, did not repent enough to prevent his execution.
Evidence produced against him included his collection of poems titled "Instructions Within", his posts on Twitter and an allegedly blasphemous conversation that he engaged in at a coffee shop in Abha two years ago. Fayadh said that he had no legal representation and was offered only 30 days to appeal the initial sentence.
Mona Kareem, a migrant rights activist who has led a campaign for the poet's release, said, "For one and a half years they promised him an appeal and kept intimidating him that there's new evidence. He was unable to assign a lawyer because his ID was confiscated when he was arrested [in January 2014]. Then they said you must have a retrial and we'll change the prosecutor and the judges. The new judge didn't even talk to him, he just made the verdict."
On November 27, PEN International published the latest volley of attacks from an international arts community that has been rallying against Fayadh's death sentence, with Adunis, Muldoon and Duffy joining in as signatories to the letter along with Serbian-American poet Charles Simic, Palestinian poet Ghassan Zaqtan, American poet John Ashbery, Hungarian poet George Szirtes and Israeli poet Amir Or.
"We, poets from around the world, are appalled that the Saudi Arabian authorities have sentenced Palestinian poet Ashraf Fayadh to death for apostasy," they wrote, in the letter which PEN International hopes to deliver to the poet himself in an expression of solidarity. "It is not a crime to hold an idea, however unpopular, nor is it a crime to express opinion peacefully. Every individual has the freedom to believe or not believe. Freedom of conscience is an essential human freedom… Fayadh's death sentence is the latest example of the Kingdom of Saudi Arabia's lack of tolerance for freedom of expression and ongoing persecution of free thinkers… We, Fayadh's fellow poets, urge the Saudi authorities to desist from punishing individuals for the peaceful exercise of their right to freedom of expression and call for his immediate and unconditional release."
According to Fayadh's supporters, he is being punished by religious hardliners for posting a video online that exposes the mutaween (moral police) lashing a man in public. Kareem also said that he could have been targeted because he happens to be a Palestinian refugee even though he was born in Saudi Arabia.
The religious police first detained Fayadh in August 2013, after receiving a complaint that he was insulting Allah and Prophet Muhammad, abusing Saudi Arabia and distributing a book that promotes atheism. Fayadh clarified that the complaint resulted from a personal dispute with another artist during a discussion about contemporary art. He was released on bail a day later. However, the police arrested him once more in January 2014, confiscating his identity card and detaining him at the police station until he was transferred to prison 27 days later.
According to his supporters, when the police failed to prove that Fayadh's poetry advocated atheism, they started to berate him for having long hair and smoking. His case went to retrial in February 2014, when the complainant as well as two members of the religious police told the court that Fayadh had blasphemed publicly, promoted atheism among his followers and been part of illicit relationships with women. While Fayadh denied the accusations of blasphemy by reaffirming his faith in Islam, he explained that the women in question were fellow artists with whom he had interacted at Jeddah Art Week, Saudi Arabia's most noteworthy contemporary art event.
This particular case highlights the prevailing tension between religious hardliners and the growing number of activists and artists who having pushing the boundaries of freedom of speech and expression in Saudi Arabia, where movies continue to be banned and there are no art schools.
Speaking to the media, Szirtes stressed that opinions cannot qualify as crimes.
"Incitement can be a crime, hate speech may be a crime, but opinions are not," he said. "That is precisely why organizations such as PEN exist. Any sentence for an individual opinion brings shame on Saudi Arabia: a death sentence brings maximum shame. … It is incongruous for a country like ours to be allied with a country that makes decisions like this. … It runs counter to all our thoughts, habits and instincts, not just as poets or writers but as human beings. … Nor is it just a cultural matter: it is a matter of exactly that which we describe as universal human rights."
PEN International's appeal was followed by the release of a joint statement, signed by over a dozen cultural and free speech organizations that have been condemning Fayadh's conviction right from the start.
Immediately after his conviction, Fayadh told the media how shocked he was with the death sentence, insisting that he had done nothing to deserve death.
"They accused me [of] atheism and spreading some destructive thoughts into society," he said, describing his poetry collection as "just about me being [a] Palestinian refugee … about cultural and philosophical issues. But the religious extremists explained it as destructive ideas against God."
According to PEN International, the poet expressed repentance during his trial for anything in his body of work that may have caused offence to Saudi Arabian authorities.
"I am repentant to God most high and I am innocent of what appeared in my book mentioned in this case," he had said according to court documents.
The kingdom's most renowned contemporary artist Ahmed Mater, who also testified in Fayadh's defense, said that the poet is known across Abha and the whole of Saudi Arabia and would not commit the crimes he has been accused of.
Stephen Stapleton, co-founder of Edge of Arabia, spoke of the role that Fayadh has played in taking Saudi contemporary art to an international audience.
"He was instrumental in introducing Saudi contemporary art to Britain and connecting Tate Modern to the emerging scene," said Stapleton. "He curated a major show in Jeddah in 2013 and co-curated a show at the Venice Biennale later that year. I've known him since 2003. He's a truly wonderful, kind person. He's an intellectual and creative but he's not an atheist."
Adam Coogle, a Middle East researcher for Human Rights Watch, said Fayadh's conviction only proves Saudi Arabia's complete intolerance towards anyone who may not share its government's religious, political and social views.
In a message to his supporters, Fayadh said, "I am grateful for everyone working on my behalf. To be honest, I was surprised because I felt alone here. I am in good health. I'm struggling to follow all the developments. People should know I am not against anyone here, I am an artist and I am just looking for my freedom."
In the wake of his conviction, Amnesty International launched a petition that could help free Fayadh.
Photo Credits: The Daily Beast