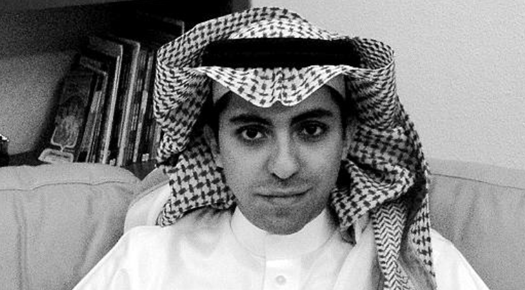 Raif Badawi, Saudi blogger and the creator of the website Free Saudi Liberals, was arrested in Jeddah on June 17, 2012 after organizing a conference to mark a "day of liberalism." His wife and three children live in Canada. Badawi was arrested on a charge of "insulting Islam through electronic channels" and brought to court on several charges, including apostasy. Apostasy in Islam is commonly defined as the conscious abandonment of Islam by a Muslim in word or through deed. The online forum, Liberal Saudi Network – created to foster political and social debate in Saudi Arabia – was ordered closed by the judge.
In 2013, he was convicted on several charges and sentenced to seven years in prison and 600 lashes. In 2014, Jeddah's Criminal Court increased his sentence to 10 years in prison, 1000 lashes, and a fine of 1 million Saudi riyals ($267,000). The verdict also had the insertion of two additional penalties - a 10-year travel ban and 10-year ban from participating in visual, electronic and written media, after his release. The flogging was to be carried out over 20 weeks. The first 50 lashes were administered on January 9, 2015 and it caused an international outcry. The second flogging has been postponed more than twelve times due to Badawi's poor health.
Article 19 of the Universal Declaration of Human Rights says "everyone has the right to freedom of opinion and expression; this right includes freedom to hold opinions without interference and to seek, receive and impart information and ideas through any media and regardless of frontiers." Corporal punishment such as flogging also violates the absolute prohibition under international law of all forms of torture or other cruel, inhuman, or degrading treatment or punishment.
Raif Badawi is the eighth recipient of the One Humanity Award, valued at $5,000 and given to writers whose work "transcends the boundaries of national divides and inspires connections across cultures."
Mr. Badawi was awarded the prize for 2014 in absentia, as an emblematic case for the right to freedom of expression in Saudi Arabia. He also awarded the Sakharov Prize for Freedom of Thought in 2015.
Liberal Moroccan writer Said Nachid said that Raif Badawi is forced to pray and attend religious classes in prison. He also said that in the early days of Badawi's incarceration, when he still had his mobile phone, he used to call him and tell him about the religious guidance one is forced to attend, including mandatory prayers and lessons in the teachings of Ibn Hanbal and Ibn Taymiyya.
The Raif Badawi Foundation said in a statement that it had "received from a private source the sad news concerning the fact that the Saudi government will resume the lashing punishment". They think that another series of lashings will take place this time inside the prison. Badawi's wife, Ensaf Haidar, who took refuge in Canada after her life was threatened in Saudi Arabia, is very concerned and scared by the news about second flogging and she pointed out that Raif's health, both mentally and physically, is not good. She also hopes that the Saudi authorities strip Raif of his citizenship and then deport him to Canada to be with his family.
Photo Credits: Wikimedia