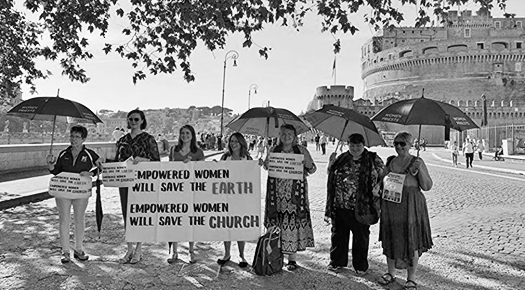 Photo Credits: National Catholic Reporter
After at least four of the 12 language groups at the Amazon synod overtly propose the ordination of married men to the priesthood in summary reports published by the Vatican Friday, with the majority of the discussion groups expressing openness to the idea, activists from the Women's Ordination Worldwide (WOW) group protested outside the Vatican. The final document of the synod will then be voted on by synod members on the penultimate day of the gathering. Per synod norms, it must pass with a 2/3 majority.
"Empowering women would save the church," said Kate McElwee, a Rome-based representative of WOW. "Our church and our Earth are in crisis – and empowering women in roles that they are already serving in their communities is a solution. We're advocating for equality and that includes ordination."
It is still taboo in the Catholic Church for women to be priests, despite the fact that Pope Francis has opened up more discussion about women's roles and appointed women in key Vatican positions. Women are denied the privilege of voting at Vatican synods, such as the one on the Amazon currently taking place, because they are not ordained.
"The consequences of this massive injustice are far-reaching beyond the church," said Miriam Duignan, from WOW's unit in the UK. "It's not just a matter of who stands at the altar each Sunday and blesses the bread … women are silenced and sidelined, and this has a tidal effect beyond the priesthood in terms of how women are seen."
Their biggest fear over the idea of allowing married men in the Amazon to be ordained is that the many women who already carry out ministerial roles in the region could be supplanted by men.
"The church would not be alive in the Amazon if it wasn't for women," said Duignan. "They are undertaking priestly roles without having the title of priest."
As the Guardian reports, the Amazon synod, which wraps up on 27 October, has discussed the role of women in the region, with Cardinal Cláudio Hummes, the president of the synod, proposing that "a suitable ministry" be established for "women community leaders." Many bishops have supported the ordination of married men despite criticism from more conservative factions.