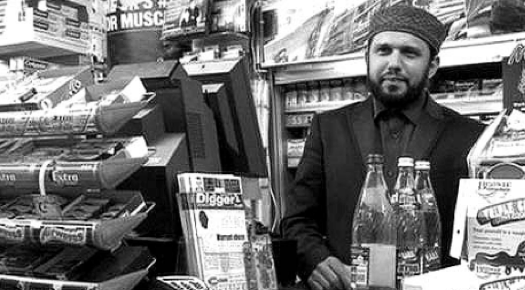 A Sunni taxi driver accused of murdering an Ahmadiyya newsagent recently admitted to killing the Glasgow man on grounds of the latter having shown disrespect to Prophet Mohammad. The accused, 32-year-old Tanveer Ahmed, made his attorney, John Rafferty, read out an official statement outside the city's High Court after his first appearance. Among other things, Ahmed said in his statement that his victim, 40-year-old Asad Shah, had to pay with his life for having claimed to be the next prophet. Ahmed also denied that Shah's killing had anything to do with Christianity or other religions.
Hours before his murder a day before Good Friday, Shah had posted Easter wishes on his Facebook page for his Christian friends. In his posts, he is believed to have lauded the life of Jesus Christ and acknowledged the progress of his "beloved Christian nation".
"Good Friday and very Happy Easter, especially to my beloved Christian nation," read his post.
His next post read, "Let's follow the real footstep of beloved holy Jesus Christ and get the real success in both worlds."
According to media reports, Shah's murder could have been a sectarian attack because of the branch of Islam he followed. Shah is believed to have hailed from the Ahmadiyya community, known for its interfaith and nonviolent activism. In Pakistan, Ahmadiyyas are  a persecuted religious minority, who are not considered Muslims by the country's majority Sunni population despite they themselves identifying as part of the same faith. With their headquarters located in South London, a determined missionary network of Ahmadiyyas has helped spread the sect's tenets around the world. Estimates suggest that there are as many as 10 million Ahmadiyyas world over.
The Ahmadiyya community draws its spiritual inspiration from a movement headed by Mirza Ghulam Ahmad, who was born in Punjab in erstwhile British-ruled India in 1835. Declaring at the time that Islam, both as a religion and society, was in decline, Ahmad suggested he had been chosen by Allah as the next messiah to reform Islam. This claim however clashes with the prevailing Islamic notion that Prophet Mohammad was the last of God's messengers and the Koran continues to be the final word of God.
In two videos that were uploaded in November 2014, Shah had been branded as a "false prophet" by an orthodox Muslim group, which views Ahmadiyya beliefs as heretical.
"We are not here to fight with other mankind or cause bloodshed," he had stated in one of those videos.
A deeply religious person, Shah worked relentlessly to foster cross-community relations in Glasgow. According to his friends, Shah observed both Muslim and Christian holidays and never failed to send out cards on Christmas and Easter. Evidently, he used his social media accounts to condemn violence and hatred, promote harmony among different religious groups and call for "unconditional real love for all mankind".
Apparently, Shah had been receiving death threats for a while before his murder on March 24.
"My client Mr. Tanveer Ahmed has specifically instructed me that today, 6 April 2016, to issue this statement to the press, the statement is in the words of my client. This all happened for one reason and no other issues and no other intentions. Asad Shah disrespected the messenger of Islam the Prophet Muhammad peace be upon him. Mr. Shah claimed to be a prophet. When 1400 years ago the Prophet of Islam Muhammad peace be upon him has clearly said that 'I am the final messenger of Allah there is no more prophets or messengers from God Allah after me. I am leaving you the final Quran. There is no changes. It is the final book of Allah and this is the final completion of Islam. There is no more changes to it and no one has the right to claim to be a prophet or to change the Quran or change Islam'. It is mentioned in the Quran that there is no doubt in this book no one has the right to disrespect the sayings of the Prophet Muhammad peace be upon him and no one has the right to disrespect the Prophet of Islam Muhammad Peace be upon him. If I had not done this others would and there would have been more killing and violence in the world. I wish to make it clear that the incident was nothing at all to do with Christianity or any other religious beliefs even although I am a follower of the Prophet Muhammad peace be upon him I also love and respect Jesus Christ," stated Rafferty.
Despite his statement, Ahmed made no pleas during his private court appearance. He has been remanded in custody since and is expected to appear in court on a later date.
Shah's killing, feared to be the first significant anti-Ahmadiyya attack in the United Kingdom, has sparked fears that Islamic sectarianism may have just paved its path to Britain.
Shah, who worked as a newsagent, was reportedly stabbed as many as 30 times with a kitchen knife, before Ahmed decided to brutally stamp his head on the day of the attack.  After being heinously attacked outside his business, Shah's Newsagents and Convenience Store in Glasgow, the Ahmaddiya Muslim was rushed to Queen Elizabeth University Hospital, where doctors pronounced him dead on arrival.
Mohammad Faisal, a family friend, said that a bearded man wearing a long robe entered Shah's shop in the afternoon. After speaking to him in his native language, the attacker stabbed Shah in the head with a kitchen knife. Shah's brother, who was working next door, rushed to the spot to find the killer laughing hysterically while sitting on his victim's chest.
"The brother dragged Mr Shah away but the guy continued attacking with the blade," said Faisal. "They struggled up to the bus stop where Asad collapsed. It was just a clear-cut revenge attack. For posting messages about peace, messages about greeting fellow Christians and Jews. That man must not have been too happy about what he was doing and what he was preaching. It was a well-planned attack. He must have been an extremist. He went straight for the head. He got stomped on the head as well. His brother suffered a slash down his shoulder area because he attacked him with a knife as well."
A silent vigil was organized outside his business the following evening as a fundraising campaign on GoFundMe managed to raise over £111,500 for Shah's family.  Those attending the vigil were urged to bring a daffodil as many others lit candles at the site.
One of the vigil organizers, Eildon Dyer, said, "It was very respectful. There were a lot of people clearly very upset. There were a lot of tears and lots and lots of flowers. Everybody has said he was the nicest man. He was clearly much loved. Everybody had nice stories to tell about him and warm stories. It's just very, very sad."
Tributes continued to pour in over the weekend for Shah, who moved to Scotland from Pakistan during the 1990s and was the eldest of seven siblings. Local residents described him as a gentleman who cared deeply for his community and customers.
Shah's younger sister, who traveled from England to be with the rest of the family following his death, said, "Asad was a humble, gentle man – he did not deserve this. He was also a very social man, always laughing. A real gentleman. He embraced Scotland and Glasgow. He was so proud to be a Glaswegian and so loyal to the city. He knew so many people. … I haven't been able to bring myself to visit the floral tributes near his shop as it is still too raw. But I want to thank everyone for their support. It will never bring him back but it is nice to know how much support he has got."
Over 400 people, including Scotland's first minister, Nicola Sturgeon, attended the vigil on Friday night.
Speaking at the vigil, Sturgeon said, "This community is in shock and devastated. Mr. Shah was a popular local businessman. I've used his shop and known him in the years past. I just think everyone is struggling to come to terms with it. But this vigil has been an important way for the community to come together and show support to his family and more than anything to show that the community is strongly united."
Thousands of people from across Scotland took to social media to pay their respects for Shah, using the hashtag #ThisIsNotWhoWeAre.
"This is disgusting – Mr. Shah was the most peace-loving man you could meet," said a neighbor. "He was proud of his Pakistani heritage but he loved Britain. He loved Scotland too and really wanted to reach out to Christians. This is such a terrible thing to happen."
Julie MacRae, a friend, said, "I'm shocked because he was so lovely. He's been great to my family. Every year he would send out lovely Christmas cards with messages of peace."
"He always had a friendly hand for you. Every Christmas he gave us a Christmas card, although he was a Muslim and it wasn't his religion. That's what he was like," said Robert Maitland, another neighbor.
Less than a week after his death, prominent Muslim leaders in Glasgow called for peace and solidarity among followers of Shah, whose messages of interfaith harmony bound together a thriving multicultural community.
Humza Yousaf, Scotland's only Muslim minister, responded via a tweet, "No ifs, no buts, no living in denial – vile cancer of sectarianism needs stamped out wherever it exists – including amongst Muslims."
Mohammed Shafiq, chief executive of a Muslim youth organization, Ramadhan Foundation, said, "Whatever differences we have with the Ahmadi community, the murder of Asad Shah is a despicable crime which everyone should condemn."
And just when a statement on behalf of Scotland's Ahmadiyya community urged the government to eliminate religious extremism in all its forms, Muslim Council of Britain, the largest Islamic umbrella group in the United Kingdom, released a statement of their own, condemning attacks on Ahmadiyyas but also announcing that they are not Muslims, they are kafirs who are destined for doom and degradation after death.
"In any society, all members of the public have a right to safety and it is up to the government and police to protect members of the public as best they can. It is up to the government to root out all forms of extremism and the Ahmadiyya Muslim community has been speaking about the importance of this for many years," read the statement in favor of Ahmadiyyas while the one issued by MCB, said, "Despite our clear theological beliefs, we note that pressure is mounting to describe this community as Muslim. Muslims should not be forced to class Ahmadis as Muslims if they do not wish to do so."
Photo Credits: YouTube