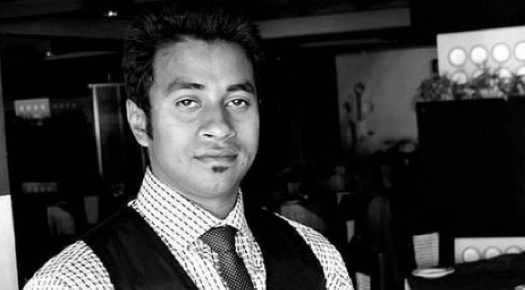 Yet another secular activist was murdered in Bangladesh after he posted comments against growing Islamism in the country on his Facebook page last month. The murder of Nazimuddin Samad, 26, was the latest in a series of killings of secular bloggers and activists in Bangladesh. Samad was first hacked with machetes and then shot to death near his university in the capital city of Dhaka on April 6.
Syed Nurul Islam, Dhaka Metropolitan Police's deputy commissioner, said, "It's a case of targeted killing. But no group has claimed responsibility… At least four assailants hacked Nazimuddin Samad's head with a machete on Wednesday night. As he fell down, one of them shot him with a pistol from close range. He died on the spot."
According to Dhaka Tribune, which first reported the incident, the assailants shouted the phrase 'Allah ho Akbar' before attacking Samad, a self-proclaimed atheist, near Jagannath University in Dhaka, where he was pursuing a degree in law.
Samad is believed to have posted many comments, criticizing Islamic radicalism and mocking radical Islamists on his Facebook page. In one of his posts, Samad described religion as the most barbaric invention while in another he ridiculed a Muslim cleric who was arrested for raping a young boy.
"In raping a boy, the Hefajat-e-Islam cleric is only carrying out his religious duty. It's the first step towards establishing pure Islam," Samad had written sarcastically, while referring to a hardline group that the cleric belongs to. In another post, he had written, "I have no religion."
Samad had only recently reached Dhaka from the northeastern city of Sylhet to pursue his degree in law.
Imran Sarker, who heads the largest online secular activist group in Bangladesh, said that in 2013, the 26-year-old participated in a nationwide protest against top Islamist leaders, who have been accused of committing war crimes during the Bangladesh Liberation War of 1971.
"He was a secular online activist and a loud voice against any social injustice. He was against Islamic fundamentalism," said Sarker of Bangladesh Bloggers Association.
Several atheist bloggers and at least one secular publisher were hacked to death in Bangladesh in 2015. Even though police managed to arrest some members of a banned group called Ansarullah Bangla Team in connection with those murders, they are yet to be prosecuted.
Secular activists have since called nationwide protests, demanding higher security for bloggers, writers and publishers, some of whom have either fled the country or gone into hiding.
A few days after his murder, an al-Qaeda associate claimed responsibility for Samad's death, thus fueling speculation that international militant networks may have gained a strong foothold in the Muslim-majority nation. According to an intelligence group, SITE, which monitors jihadist messages posted online, al-Qaeda in the Indian Subcontinent, also known as AQIS, issued a statement on April 8, suggesting that operatives of Ansar al-Islam Bangladesh had carried out the murder in retaliation of "blasphemy against the beloved Prophet".
"We don't attack people for being atheist in their personal lives," the statement said. "We only target those who deride Islam and the Prophet."
While Dhaka Metropolitan Police has said that they would be investigating all probable motives behind Samad's murder, the government dismissed all possibilities of foreign terror elements having paved their path into Bangladesh, with some senior politicians even blaming homegrown terror for these attacks.
Ansar al-Islam Bangladesh is believed to have launched its operations in the country in 2012 as the South Asian country's arm of al-Qaeda during a period of conflict between Islamists and secularists. Even though many of its members have since switched allegiance to Islamic State, the Bangladeshi government went on to ban the group under certain anti-terrorism legislations last year.
"The shrinking democratic space and the absence of a credible opposition creates a political void which then allows radicals, extremists and fringe elements to take center stage," said Shafqat Munir, a security analyst at Bangladesh Institute of Peace and Security Studies.
Expressing concern over the increasing number of murder cases of secularists in Bangladesh, international organizations such as PEN International and Amnesty International raised pertinent questions about what action Prime Minister Sheikh Hasina has taken so far. Those protesting Samad's death said that the law student would still be alive had those responsible for the previous murders been punished immediately.
"On behalf of PEN Bangladesh, I am strongly protesting against this murder. We urge the government to trace and arrest these murderers and bring them to trial. At present Bangladesh authorities must protect the secular bloggers, activists, publishers and writers and ensure that these horrifying incidents do not happen again," said Syeda Aireen Jaman, secretary general of PEN Bangladesh.
Amnesty International too issued a press release, saying, "The vicious killing of another secular activist in Bangladesh is a grave reminder that the authorities are failing to protect people exercising their right to freedom of expression. … There can be no justification for the brutal killing of Nazimuddin Samad, who has apparently paid with his life for nothing but being brave enough to speak his mind. This is not just a senseless murder, it is a blatant attack on the right to freedom of expression… Bangladeshi authorities must categorically condemn these killings and take serious steps to end this horrific cycle of violence. Those responsible for the killings of secular activists must be held to account, anything less will send a signal that these attacks are tolerated and permitted by the government."
Following Samad's death, the United States said that it is contemplating granting asylum to a select group of bloggers who may be facing imminent danger in Bangladesh after a number of secularists were murdered in the country.
State Department Deputy Spokesman Mark Toner said, "Humanitarian parole to a select number of bloggers who continue to be under imminent danger is one option under consideration," adding that the Department of Homeland Security would have further details.
Toner condemned the attack as "a barbaric murder" and extended support to Bangladesh.
"We offer our condolences to Nazimuddin Samad's family and our unwavering support to the Bangladeshi people in their struggle against violent extremism," he said. "Nazimuddin knew, and Bangladesh's history has shown, that violence will not defeat the country's proud tradition of free and independent discourse. So we stand with the Bangladeshi people in rejecting this vicious act, and uniting to preserve a tolerant and inclusive society that protects freedom of expression… The United States will continue to support the government of Bangladesh in its efforts to combat terrorism, counter violent extremism, and bring to justice those who commit such heinous acts."
Photo Credits: The Guardian