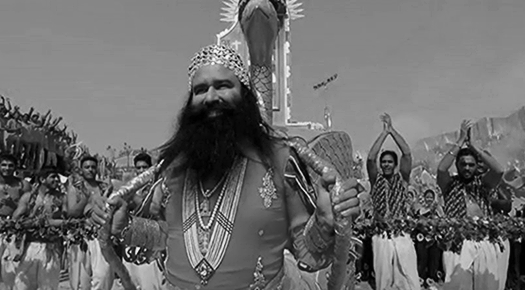 Photo Credits:International Business Times
Dera Sacha Sauda (DSS) is an Indian religious group and "non-profit social welfare" organization that was established on April 29, 1948 by Mastana Balochistani. Mastana was an ascetic follower of Baba Sawan Singh, the second Satguru of Radha Soami Satsang Beas (RSSB), which is a center for religious learning. The current leader of DSS, Gurmeet Ram Rahim Singh (who himself claims to have more than 60 million followers worldwide) is a controversial figure in India.
As the Guardian reports, an Indian court sentenced a popular and flamboyant spiritual guru and three followers to life in prison on Thursday over the murder 16 years ago of a journalist who published a letter about the guru's alleged sexual exploitation of women.
Chhatrapati was the journalist who published the anonymous letter accusing DSS leader Gurmeet Ram Rahim Singh Insan of rape, of which he would later be found guilty. On the night of 24 October, two men riding a motorcycle shot Chhatrapati at point-blank range outside his residence. The journalist succumbed to his injuries four weeks later. Insan was convicted for his role in the murder on 11 January 2019 and was awarded life imprisonment by Special CBI Court on January 17, 2019.
Judge Jagdeep Singh convicted the guru and his three followers on murder charges. The followers were present in the court in the Indian town of Panchkula, 249km north of Delhi.
"This is the triumph of truth, I feel relieved today. The prosecution had demanded capital punishment but we're satisfied with the punishment," the Indian Express newspaper quoted Anshul Chhatrapati, the son of the slain journalist, as saying.
On August 25, 2017, Ram Rahim was convicted of rape by a special Central Bureau of Investigation (CBI) court. His conviction led to widespread violence from members of the DSS, which left at least 38 DSS members dead from clashes with police and hundreds injured. On 28 August 2017, Ram Rahim was sentenced to 20 years in prison for rape.
The self-styled "godman" has starred in a number of music videos and is known for his flamboyant jewellery. He has also starred in Bollywood films. The Indian Express had placed Ram Rahim 96th in their list of the 100 most powerful Indians of 2015. He is usually credited in his films as actor, director, writer, songwriter, as well as various other roles. His films were negatively received by critics, with many considering them propaganda and criticizing their poor quality.