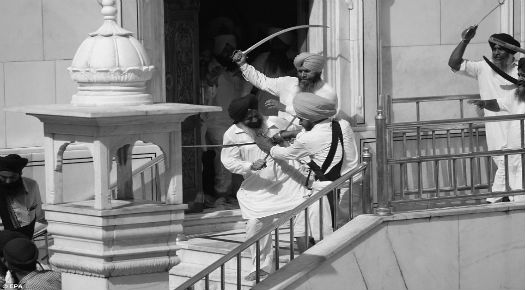 Sword-wielding Sikhs clashed at India's Golden Temple during a prayer service to commemorate the 1984 government massacre that took place at the same venue in Amritsar 30 years ago. During the sword battle that broke out on June 7th, at least 11 were left injured.
Footage from the site shows two groups of men, one in blue turbans and the other in saffron, yelling battle cries, chasing each other down the temple's marble steps and lashing out with their swords.
"Today we were supposed to have a solemn remembrance for the martyrs of 1984, so what has happened is very sad. The Temple has once again been dishonoured today," said Prem Singh Chandumajra, spokesman for Punjab's ruling party Shiromani Akali Dal (SAD).
Reportedly, the scuffle erupted over a minor issue where two parties failed to decide who would speak first at the prayer service that was held to honour the victims of Operation Blue Star, one of India's most contentious episodes in battling against Sikh separatists during the 1980s.
Apparently, Simranjeet Singh Mann, head of SAD, and his supporters forcibly entered the temple's rostrum to deliver a speech and when guards from Shiromani Gurdwara Parbandhak Committee (SGPC) attempted to stop him, an initial fracas grew into a violent assault eventually. What made things worse was the absence of police personnel on the premises as state-deployed security is not allowed inside the Golden Temple.
Following the upheaval, panic-stricken devotees ran back home for safety, business owners shut their shops for the day and 1,500 anti-riot police personnel were deployed across Amritsar as hard-line group Dal Khalsa called for a bandh.
Operation Blue Star was carried out on June 6th, 1984 under the command of then Prime Minister Indira Gandhi, when soldiers from the Indian Army stormed into the compound of the gurdwara and opened fire in an attempt to chase out separatist insurgents who had sought refuge inside the holy temple. The incident led to the death of hundreds of Sikhs and the arrest of Jarnail Singh Bhindranwale as well as his followers who were responsible for initiating a movement for a separate state for Sikhs called Khalistan. After Operation Blue Star, Gandhi was assassinated by her own Sikh bodyguards and this led to retaliatory riots across north India where at least 3,000 people were killed.
"The violent clashes will be investigated and action will be taken against those who are accused," said Giani Gurbachan Singh, leader of SGPC, the elected body that manages Sikh temples in three states including Punjab, Haryana and Himachal Pradesh.
Photo Credit: The Daily Mail