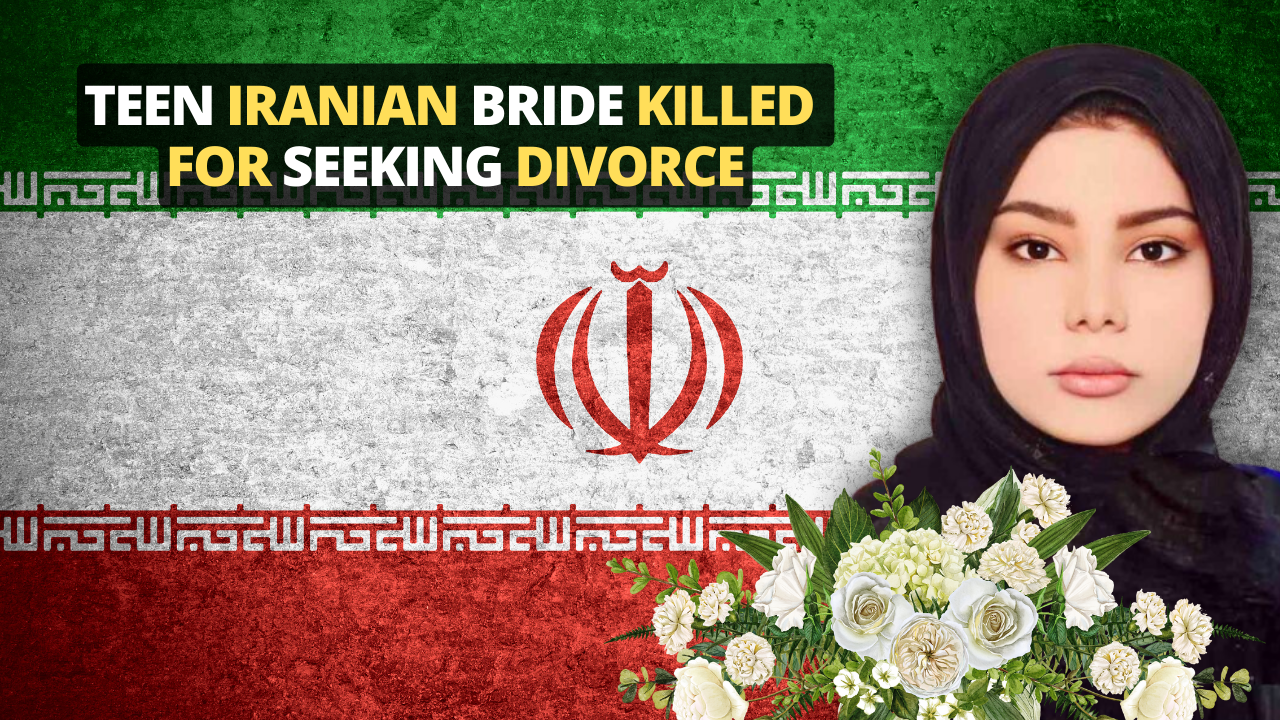 A 14-year-old girl was killed by her brother in Iran while seeking a divorce, reflecting the violent culture of honor killings in the Islamic Republic.
A tragedy unfolded in the city of Ravansar in Iran's Kermanshah province as a 14-year-old child bride, Mona Aghaie, was killed by her own brother after seeking a divorce. Apparently, the brother killed her to uphold the family's honor.https://t.co/Cbnv8HmQg5 pic.twitter.com/oD0hmwiopW

— Iran International English (@IranIntl_En) September 12, 2023
According to the Center For Human Rights In Iran, the teenage bride, identified as Mona Aghaie, from the city of Ravansar in the province of Kermanshah, had been seeking a divorce, but her life was abruptly cut short after her brother killed her to uphold the family's honor.
Many human rights organizations and activists urged immediate action to address the longstanding issue of honor killings in Iran and ensure justice for victims like Mona Aghaie.
The religion of "peace" on display right here. Throw out the garbage, and return to your roots where women had freedom. #IranRevolution

— Jasmine PN (@jassyp101) September 12, 2023
Aghaie's murder is not an isolated incident in a Muslim-majority country like Iran. Last February 2022, the world was shocked upon hearing about the violent murder of a 17-year-old girl named Ghazaleh "Mona" Heydari at the hands of her husband and brother-in-law.
Mona Heydari was beheaded, and a video of her husband, Sajjad Heydari, parading on the street while holding his wife's severed head in his left hand and a knife in his right went viral on social media. Authorities subsequently arrested Sajjad and his brother-in-law, and Sajjad was sentenced to eight years in prison for murder and assault.
These honor killings remain intertwined with societal beliefs and the legal framework of the Islamic Republic. They remain rampant in many parts of the country, notably in the provinces of Khuzestan and Kermanshah, where tribal structures remain very strong.
Fucking bastards. They kill their sister and talk about honor 100% they look like neanderthals

— Legalize Meth NOW! #METHursdays till I die (@sh0wk3y) September 12, 2023
Many perpetrators of honor killings are rarely brought to justice, especially when they are family members of the victim. Such cases are particularly true if the perpetrator is the victim's father.
Under Iran's Islamic Penal Code, fathers and paternal grandfathers cannot be sentenced to death for killing their child or grandchild. Instead, they may be sentenced to prison and obligated to pay "blood money" to the next of kin, typically the victim's mother, if demanded. However, mothers can forgive the murderer entirely, waiving the obligation to pay the "blood money."
In some instances where the murder was particularly violent or deemed harmful to society, judges can impose additional sentences "on behalf of the public." However, honor killings remain prevalent in some parts of Iran, primarily due to light penalties and lenient laws by the Islamic Republic, which can encourage such behavior.