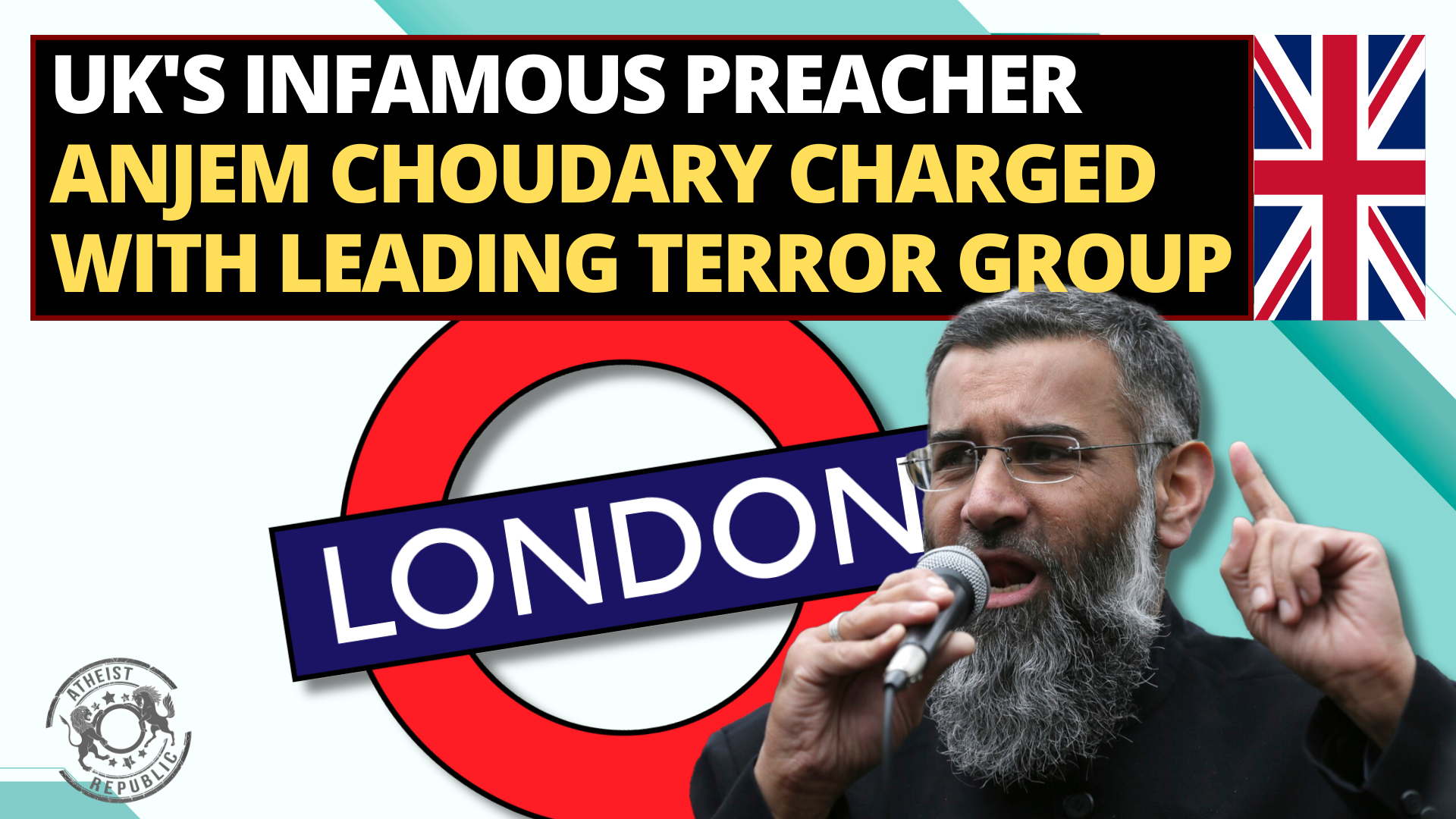 A high-profile and notorious radical British preacher was arrested last July 17th and charged with leading a terrorist organization in the United Kingdom.
Mohabbat ki Dukan in

authorities have charged Anjem Choudary, a notorious British-Pakistani cleric, with directing a terrorist organisation. He is leading the extremist group Al-Muhajiroun, which has links to several terror plots. #BreakingNews #Security pic.twitter.com/o8SDaHfQ9j

— Oxomiya Jiyori (@SouleFacts) July 25, 2023
56-year-old Anjem Choudary, a British-Pakistani Islamist, and preacher, was charged on July 23rd with three counts of violating the UK's Terrorism Act and appeared in a London court on July 24th.
He was accused of directing a terrorist organization, being a member of a banned organization, and addressing meetings to gain support for such organizations between June 2022 and July 2023.
Choudary was arrested at his home in London and charged with a Canadian national named Khaled Hussein, who was also apprehended on July 17th after arriving at Heathrow Airport.
At last the Bastard that is Anjem Choudary arrested for suspected terrorist acts. How many more times does this poor run country need warnings. Stop the live and let live woke bullshit and start making this country safe again. pic.twitter.com/lEjTfODRy0

— Sir Johnny OBE (@Farmer_Boycie) July 18, 2023
Hussein, from Edmonton, Alberta, was charged with being a member of an illegal organization. According to prosecutors, he worked with Choudary online to provide "a platform" for the views of Choudary's group.
The charges against Hussein and Choudary were related to the al-Muhajiroun, a radical Muslim group in the United Kingdom outlawed by the British government in 2010. Prosecutors say the group has operated "under many names and guises," including the Islamic Thinkers Society.
Took long enough. This dangerous man should be stripped of citizenship and deported

Radical British preacher Anjem Choudary is charged with directing a terrorist organization
The BBC reported that Choudary once gave lectures for the Islamic Thinkers Society "on the establishment of an Islamic state in Britain and how to radicalize people."
During separate hearings at Westminster Magistrates' Court, neither Choudary nor Hussein entered a plea for their charges. They were both ordered to be detained until the next hearing at Central Criminal Court, which is set to be held on August 4th.
Nick Price, from the Counter Terrorism Division of the Crown Prosecution Service, said that "criminal proceedings against Mr. Choudary and Mr. Hussein are now active, and they each have the right to a fair trial."
Should Hate preacher Anjem Choudary be locked up for life or deported?

Please Retweet for a larger audience.

— Benonwine (@benonwine) July 18, 2023
Choudary's arrest this July 2023 isn't the first time the radical preacher and activist got in trouble with British authorities for his Islamist activities. He was convicted of terrorism charges in September 2016 and was sentenced to five years and six months in prison. However, he was released on October 2018 and was restricted from speaking publicly until July 2021.
Anjem Choudary arrested on suspicion of a terror offence.

Keep him locked up. Someone who recruits terrorists and pledges allegiance to should not benefit from the naivety of liberal societies.

— Imtiaz Mahmood (@ImtiazMadmood) July 19, 2023
He also referred to the terrorists who carried out the September 11 attacks in New York City as "magnificent martyrs," and he refused to condemn those responsible for the bombings in London that occurred on July 7, 2005. Choudary also clashed with different religious groups and leaders, notably Pope Benedict XVI, and other mainstream British Muslim organizations, such as the Muslim Council of Britain.