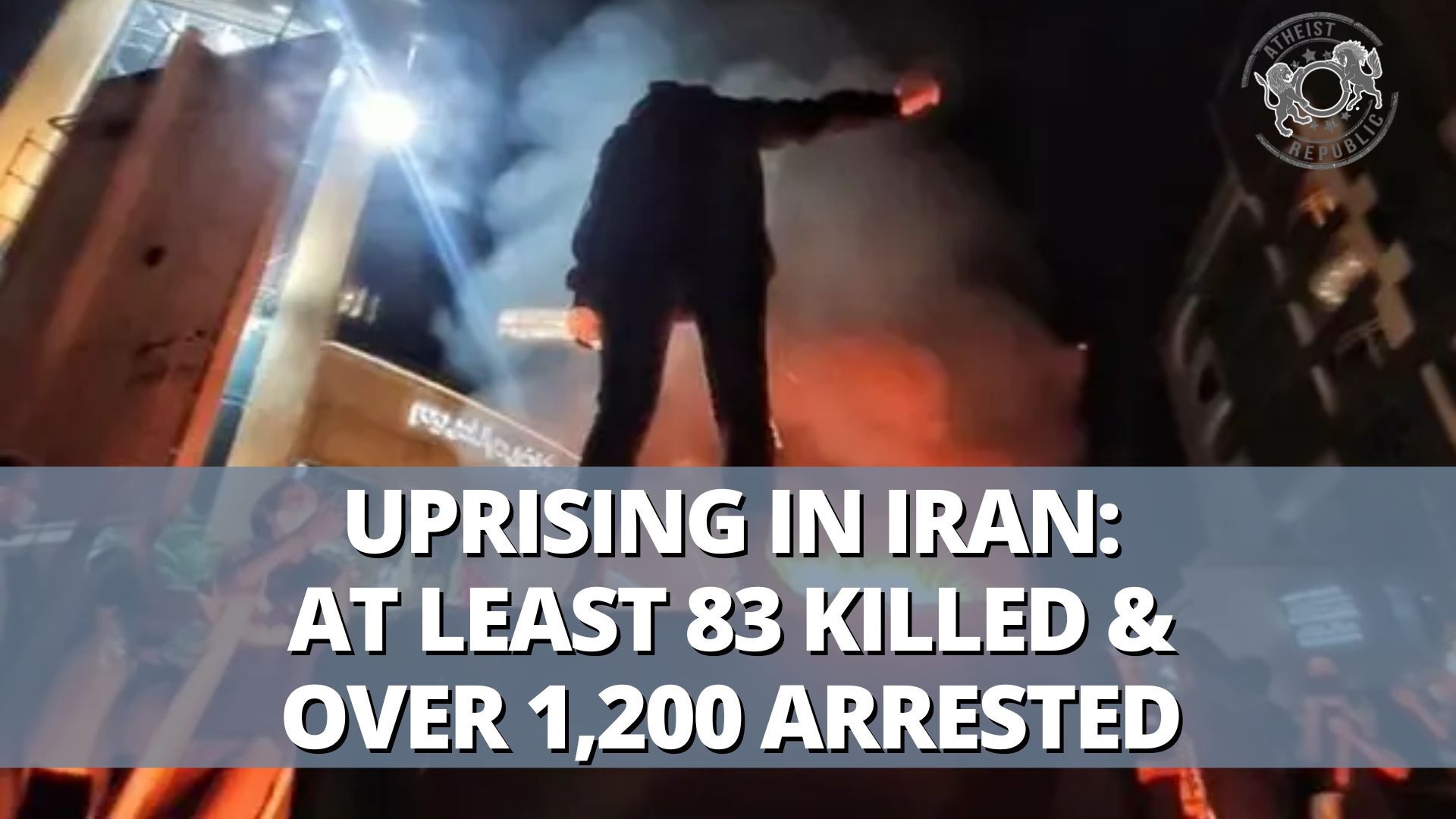 Sparked by the death of 22-year-old Mahsa Amini at the hands of the "morality police" on September 16, and despite an internet shutdown, widespread protests continue throughout Iran.
Tehran legislator Mahmoud Nabavian calls the protests "riots" and says women that take off the mandatory headscarves are out to "prostitute themselves." State media have made similar statements, calling the protesters "hypocrites, rioters, thugs, and seditionists."
More than a thousand protesters have been arrested and subjected to torture and forced confessions on state-affiliated Telegram channels. As of Thursday, September 29, according to Iran Human Rights (IHRNGO), 83 deaths have been confirmed throughout sixteen provinces.
Security forces shot twenty-year-old Hadis Najafi on September 21. Struck by bullets in the abdomen, neck, heart, and hand, Najafi died four days later.
This is the funeral of 20 year old #HadisNajafi, who was shot dead on the streets by security forces for protesting. Hadis was a kind hearted girl & loved dancing. She was protesting against the brutal death of #MahsaAmini. Their crime: wanting freedom.
pic.twitter.com/tduxVe1SZf

— Masih Alinejad (@AlinejadMasih) September 25, 2022
Also shot by security forces on September 21 was sixteen-year-old Mehdi Mousavi. He died in the street after being shot five times and beaten with batons. His family says they were warned to stay quiet or else other family members might "disappear."
In Zanjan, a 16-year-old boy named Mehdi Mousavi, was murdered by security forces. He was shot with 5 bullets, fell to the ground, and then security agents hit him several times with their batons. He was pronounced dead at the hospital. #IranProtests #MahsaAmini #مهسا_امینی https://t.co/LeAgx0OdMK

— Tara | تارا (@azizamtara) September 27, 2022
According to reports, security forces have targeted activists and journalists and warned celebrities that support of the protests would get them arrested. Some of the people targeted were not even attending the demonstrations but were arrested in their homes. The judiciary calls these "preventive detentions."
Advocate for student rights and former secretary of the Islamic Culture and Civilization Association at Babol Noshirvani University of Technology, Milad Shomali, was arrested after his father was taken as bait by security forces. Editor and translator Someyah Nowrouzi told Iranwire that security forces broke down her door at 3:30 am, beat and pepper sprayed her husband, Farshid Gorbanpour, a journalist and manager of an online bookstore. Nowrouzi says they beat and took her husband in front of their young child and took the family's mobile phones and laptops. She does not know where they took him or if he is okay.
Other journalists were arrested, including Elahe Mohammadi, who covered the funeral of Mahsa Amini. Her home was raided, and she was arrested on her way to questioning after judicial authorities had summoned her. Journalist Nilufar Hamedi, who was present at the hospital and exposed the case, has also been arrested.
An Iranian newspaper journalist who played an important role in covering the death of Mahsa Amini at the hands of Iran's morality police is being held in solitary confinement https://t.co/JGOyHk55Oe

— The Times and The Sunday Times (@thetimes) September 27, 2022
As women continue to burn hijabs and publicly cut their hair, the protests have turned decidedly anti-regime. Slogans such as "Death to the dictator" and "Death to Khamenei" are shouted in the streets and from windows and rooftops. Posters of the Supreme Leader and Qassam Soleimani, the slain leader of Iran's Islamic Revolutionary Guard Corps (IRGC) Quds Force, have been ripped, torn down, and set on fire.
Chief Justice Golemhossein Mohseni Ejei was captured on camera giving his men a pep talk. Many haven't slept for days, and morale is low.
Ashtari #Iran's Chief of police, in an effort to boost security forces' sagging morale, told them: "Stand strong. Don't doubt the path. Because they want to (strike down) the very state and say the path you've taken since the revolution was wrong." #IranProtests #مهسا_امینی pic.twitter.com/eVcuLR8cox

— Iran News Wire (@IranNW) September 26, 2022
Tehran's IRGC Mohammad Rasouloullah Brigade announced that 185 men were injured during the first twelve days of protests. One hospitalized Basij soldier said that while volunteering on standby, he had been shot. The troop commander said his men were being targeted "in dark alleys with small pistols."
Iran Foreign Minister Amir Hosseinabdollahian said in an interview with New York City's Morning Edition, "There is not a big deal going on in Iran. There is no regime change in Iran. Don't play on the emotions of the Iranian people." He claims that outside elements have encouraged people to turn violent through satellite channels and websites.
"Those who took part in the riots must be dealt with decisively," said President Ibrahim Raisi, "This is the demand of the people," he told State TV.