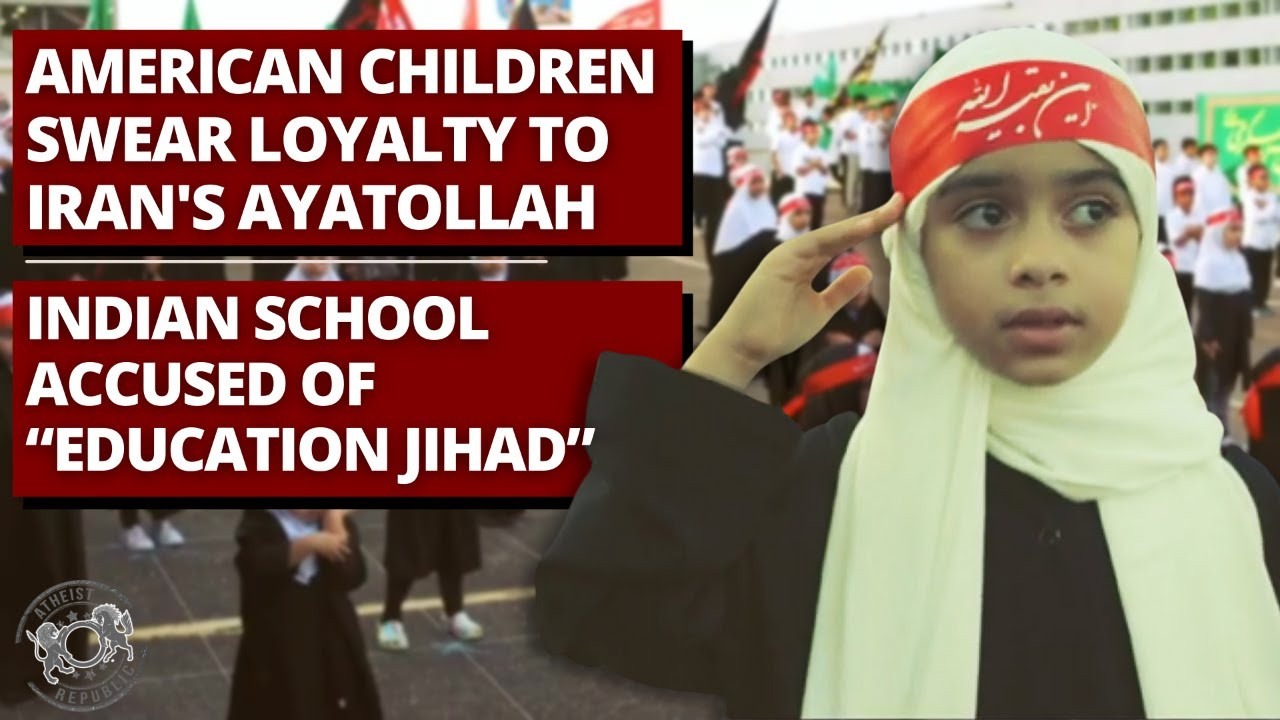 American Students Sing Religious Oath of Loyalty to Iran's Supreme Leader
https://www.atheistrepublic.com/news/american-students-sing-religious-oath-loyalty-irans-supreme-leader
Location: United States, Texas
Recently, in Houston, Texas, Shiite Muslim children sang an Islamic religious song with lyrics swearing allegiance to Ali Khamenei, Iran's Supreme Leader. The song lyrics contain messages such as, "I make an oath. One day when you need me, I will be your martyr." The Jerusalem Post reported that the song is called "Salam Farmande" (Hello Commander), and it was released in 2021 by the Persian group "Nation of Imam Hosayn." The song is nominally about Imam al-Mahdi, a messianic figure believed to be the last imam by the Twelver Shia Muslims. Yet, it cleverly blurs the line between Imam al-Mahdi and Iran's Supreme Leader Ayatollah Ali Khamenei. The children were filmed singing as part of a video created by the Islamic Education Center (IEC) in Houston, Texas. IEC has since removed the video from its Facebook page and Youtube channel. Iranian state-run media broadcasted the footage of the Houston school as propaganda and have constantly promoted the song. Iran's action to "recruit child soldiers and brainwash children" was denounced by many critics.
"Education Jihad;" Indian School Under Fire for Interfaith Prayers
https://www.atheistrepublic.com/news/education-jihad-indian-school-under-fire-interfaith-prayers
Location: India, Uttar Pradesh
In India, even educational institutes are at a risk of facing huge setbacks due to the rising Hindu-Muslim communalism in the country. Florets International School, an English Medium Co-ed Institute in the state of Uttar Pradesh, is accused of spreading Islamic teachings through its daily interfaith prayers. Parents claimed that the school had forced the students to chant "Kalma," a form of Islamic prayer. According to ACP Nishank Sharma, an investigation had been started on the claim that the school is promoting "Shiksha (Education) Jihad" as students are being taught Islamic prayer. The alleged prayer book contains prayers from many religions without favoring any. The prayers include the Hindu, Gayatri Mantra, and the Sikh Guruvani, among others from the four major religions of India. The school's principal, Shraddha Sharma, said, "We followed prayers of all religions and not any one particular faith, and this has been the case for the past 12-13 years." Hindutva activists also conducted a "purification ritual" for the school premises using Ganga Jal, holy water from the Ganges river. A police complaint was registered against the school and administrators after the Hindutva activists started protesting. The school has even been sealed by the local government administration, interrupting the education of the students.
"Flood Jihad;" The Conspiracy that Muslims Manufactured Devastating Floods
https://www.atheistrepublic.com/news/flood-jihad-conspiracy-muslims-manufactured-devastating-floods
Location: India, Assam
This year, two massive waves of floods hit the state of Assam, India, as the rains and storms were heavier than usual. The flood caused significant damage and the death of 192 people. Amid such devastation, yet another anti-Muslim conspiracy theory became a heated topic of discussion. The "Flood Jihad" conspiracy claims that the Muslim community of Assam is responsible for the disastrous floods by way of purposefully sabotaging local embankments and flood protection mechanisms. Four Muslim men were accused and arrested as the conspiracy theory became viral on social media platforms. On July 3rd, Nazir Hussain Laskar, a construction worker that had worked for more than a decade on the state's anti-flood projects, was arrested by police. According to the authorities, an embankment constructed on the Barak river to protect the nearby cities from floods was tampered with by Laskar. Even though the investigation had no evidence to accuse Laskar, he was detained for nearly 20 days on suspicion before being released on bail. Even after his release, Laskar has to maintain a low profile because he is afraid of being lynched by an angry mob. Nirmalya Choudhary, associate professor at the Jamsetji Tata Institute of Disaster Studies in Mumbai, stated, "Some of it [the flooding] could also be human-induced. ...There were instances where people deliberately breached the embankment so that the water would move out and would not flood their area," but he emphasized that this was done for pragmatic, not communal, reasons.
Pro-Female Genital Mutilation Islamic Leader Tours UK Despite Uproar
https://www.atheistrepublic.com/news/pro-female-genital-mutilation-islamic-leader-tours-uk-despite-uproar
Location: United Kingdom
Syedna Mufaddal Saifuddin, the head religious leader of the Shia Dawoodi Bohra community and a vocal advocate of Female Genital Mutilation (FGM) is scheduled for a talk in front of tens of thousands in London between July 29th to August 7th. Anti-FGM campaigners are petitioning the UK government to revoke Saifuddin's visa until he publicly denounces his support of this centuries-old custom which harms millions of girls and women. Saifuddin has over 1.2 million followers worldwide. Previously, Saifuddin's office has issued letters to all his followers in nations wherein FGM practice is illegal, to not engage with this. However, a year later, he backtracked. He encouraged all his followers to perform FGM, even if residing in countries where FGM is illegal. In one of his public speeches, he said, "It must be done. If it is a man, it can be done openly, and if it is a woman, it must be discreet. But the act must be done." UNICEF has reported that FGM violates the human rights of girls and women. According to UNICEF data, at least 200 million girls and women in 31 countries underwent FGM procedures. Former president of the Dawoodi Bohra Welfare Society, Saka Hakasi, said "Given he supports FGM, I don't understand how he can be given a visa to visit the UK because it puts girls at risk. We are flabbergasted."
Child Marriage Survivor Executed for Murdering Husband in Iran
https://www.atheistrepublic.com/news/child-marriage-survivor-executed-murdering-husband-iran
Location: Iran
On July 27th, three women convicted and charged with killing their husbands were executed in Iranian prisons. These three women were part of a recent execution spree that took the lives of 32 people in a single week. Soheila Abedi, a former child-bride who had married her husband around the age of 15 and was convicted in 2015, roughly ten years after the marriage, was hanged to death in Sanandaj Central Prison. According to Sharia law, the victim's family decides the punishment for the accused charged with murder. They can choose between retaliation-in-kind (Qisas), blood money (Diya), and forgiveness. It is reported that Iran executes more women than any other country worldwide. Many of these women charged with killing their spouses had violent and abusive husbands and were married to them as children. Many activists proclaim that the penal system of Iran is biased against women, who are deprived of the right to independently file for a divorce, even when they experience domestic violence and abuse.
Iranian TV Airs Forced Confession by Anti-Compulsory Hijab Activist
https://www.atheistrepublic.com/news/iranian-tv-airs-forced-confession-anti-compulsory-hijab-activist
Location: Iran
On July 30th, Sepideh Rashnu, a 28-year-old writer, journalist, editor, and activist against compulsory hijab, appeared on Iranian state-run TV, making her "confession" a few weeks after her forced disappearance. She was arrested in mid-July after a video circulated online of her being harassed by a woman on public transportation for not obeying the country's mandatory hijab laws. In the official video, Rashnu is filmed sitting directly in front of the camera but avoiding looking into it. Her gaunt face and body language suggested that she had been forced to say lines that appeared to have been written by authorities, and many journalists allege that they can see marks of torture on her face. In the video, Sepideh says she sent a video clip to Masih Alinejad, a prominent US-based anti-regime and women's rights activist. Forced confessions have been a tool of the Islamic Republic since its inception in 1979, but many activists say that Rashnu's video marks a turn, as there was little attempt to hide that she was put under duress.
Armed Gunman Stalks Iranian-American Dissident Journalist
https://www.atheistrepublic.com/news/armed-gunman-stalks-iranian-american-dissident-journalist
Location: United States, New York
On July 25th, a man in Brooklyn was arrested after being found armed with a loaded AK-47-type assault rifle outside the home of Iranian journalist and women's rights activist Masih Alinejad. Alinejad has long been a target of the Islamic Republic of Iran. According to a criminal complaint filed in Manhattan Federal District Court on July 29th, a man named Khalid Mehdiyev behaved suspiciously outside Alinejad's house for two days in the last week of July. Mehdiyev was waiting outside the journalist's home in a car, and he roamed outside her house and even tried to open the front door. He was later pulled over for breaking a traffic rule and arrested for having a suspended license. The police officer found that he had a suitcase in the backseat of the car, which contained an AK-47 assault rifle with 66 rounds of ammunition. She believes that the man is connected to the Islamic Republic of Iran, and in a televised interview, she told the regime to "go to hell." This is not the first time Alinejad was under threat. In 2021 four Iranian intelligence agents were charged with conspiring to kidnap the journalist and forcefully send her back to Iran, where she would likely be executed.
Ex-Terrorist Spokesperson Named as Somalia's New Religion Minister
https://www.atheistrepublic.com/news/ex-terrorist-spokesperson-named-somalias-new-religion-minister
Location: Somalia
On August 2nd, Somalian Prime Minister Hamza Abdi Barre appointed the former deputy leader and co-founder of the Islamist militant group al- Shabab as the new minister of religious affairs. Mukhtar Robow, also known as Abu Mansour, co-founded al-Shabab. Al-Shabab has claimed responsibility for many bombings and suicide attacks. They typically target government officials, African Union Mission in Somalia (AMISOM), and perceived allies of the Federal Government of Somalia (FGS). Robow's affiliation with Al-Shabab stirred a discussion on whether it will strengthen the fight against an insurgency or provoke clan clashes. Apparently, his selection is an attempt to pit him against his former group. His cabinet post will put him in charge of the ideological confrontation against al-Shabab, and challenge their dominance and legitimacy in many regions in Somalia. The political analyst Mohamed Mohamud said, "We welcome his appointment. The move will advance reconciliation and serve as a good example for more high-level al-Shabab defections."
Anti-LGBT Christian College Probed by State of WA Amid Student Protests
https://www.atheistrepublic.com/news/anti-lgbt-christian-college-probed-state-wa-amid-student-protests
Location: United States, Washington
A private Christian liberal arts institution, Seattle Pacific University, in the state of Washington, is facing an investigation by the state's Attorney General over an alleged prohibition of hiring members of the LGBT community. In response, on July 27th, the university filed a complaint against Washington state Attorney General Bob Ferguson. At the heart of the controversy is the university's employee lifestyle guidelines which mandate that employees are not to engage in same-sex sexual activity, extramarital sex, and cohabitating before marriage. The complaint from the university explained that "The U.S. Constitution recognizes and protects the right of Seattle Pacific University to decide matters of faith and doctrine, to hire employees who share its religious beliefs, and to select and retain ministers free from government interference." Some students, have already created plans to file legal action against the university's board of trustees for its "homophobic" and "discriminatory" employee lifestyle expectations. The issue caught international attention when a video of this year's graduation ceremony, where 50 students handed the school's president pride flags instead of shaking his hand, went viral. Tracy Norlen, the spokesperson of the Seattle Pacific University, said that the university will not be changing its established lifestyle for its employees, despite protests.
Atheist Republic at Celebrating Dissent 2022, Aug 20-21
https://cd2022.freethoughtlebanon.net/
Location: Germany, Cologne