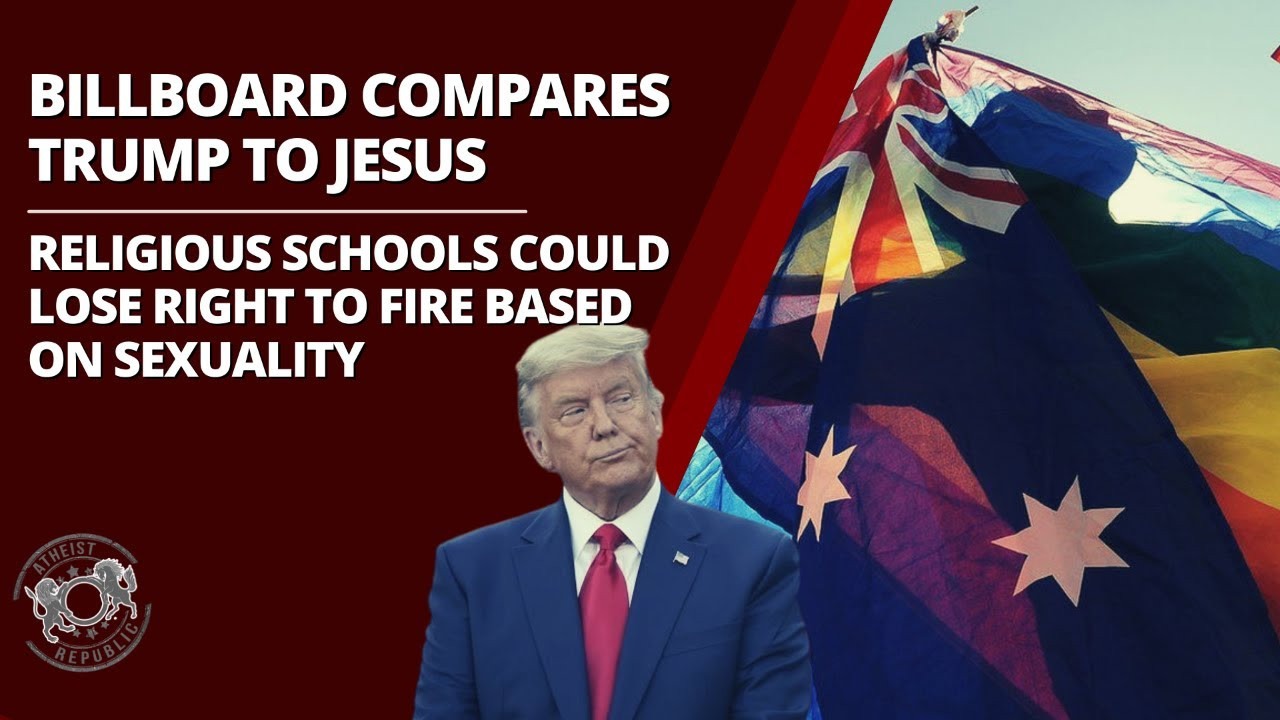 Billboard Comparing Trump to Jesus Causes Blasphemy Controversy
https://www.atheistrepublic.com/news/billboard-comparing-trump-jesus-causes-blasphemy-controversy
Location: Georgia, USA
In early September, a picture of a controversial billboard ad of former President Donald Trump next to prophetic words "Unto us a Son is given, and the government shall be upon his shoulders" appeared on Twitter. The words are easily recognized as prophesying the return of Jesus. The Times Free Press in Chattanooga noted that the billboard, which towered over Highway 27 in Fort Oglethorpe, Georgia, was quickly removed a few days later. This confusion regarding the sign's content caused outrage among Christians and non-religious Americans alike. Some accused the source behind this advertisement of blasphemy. The sponsor of this billboard message is still a mystery. Reagan Outdoor Advertising owns the actual billboard, but reportedly they are not responsible for the ad itself. Local newspapers noted that even though they previously supported some of Trump's policies in the past, they are repulsed by how Trump's current defenders are holding Trump as an equal to Jesus.
Proposed Law: Religious Schools to Lose Right to Fire Based On Sexuality
https://www.atheistrepublic.com/news/proposed-law-religious-schools-lose-right-fire-based-sexuality
Location: Victoria, Australia
Religious schools and organizations in the Australian state of Victoria may soon be prohibited from refusing to hire or terminating based on the applicant's gender identity, sexual orientation, or marital status. On September 16th, the Victorian Labor Party in Australia proposed a new law that would end this discriminationatory practice. Currently, religious organizations are free to end or deny employment to LGBT people simply because of their sexuality or gender identity. A Christian advocacy group, the Australian Christian Lobby (ACL), has expressed that the proposal is an "attack on people of faith." Marc Spencer, the ACL's public policy director, asked, "Why is the Government trying to dictate to a Christian school who it can employ or in what role?"
Location: Indonesia
On September 20th, the Indonesian National Police's Criminal Investigation Agency confirmed that former Inspector General Napoleon Bonaparte assaulted Muhammad "Kace" Kosman while in detention over allegations of blasphemy, including smearing the victim's face with human feces. Islamic leaders often challenged Kace in debates because of his "blasphemous ideas" relating to his criticism of Islam, until he was eventually exiled from his village in 2007. Turning to social media, Kace quickly became infamous for uploading blasphemous videos on Youtube, including calling the Koran "The Confusing Yellow Book" and "The Source of All Lies." Bonaparte, in a statement, said that "anyone can insult me, but not my Allah, the Koran, the Holy Prophet, and the creed of Islam." He added that he will "take any action in a measured manner against those who dare to do so." This is not Bonaparte's first time getting in trouble with the law. In 2020, he and another high-ranking police officer were indicted for accepting bribes from a wanted felon in Indonesia.
Court Case Reveals Underground Network of FGM Practitioners
https://www.atheistrepublic.com/news/court-case-reveals-underground-network-fgm-practitioners
Location: Michigan, USA
On September 16th, Federal prosecutors announced that the Michigan-based physician, Dr. Jumana Nagarwala, was a part of an underground network of physicians in a close-knit community of Indian Muslims that had been performing female genital mutilation (FGM) on minors. Dr. Nagarwala, an emergency room doctor in Henry Ford Hospital in Detroit, was arrested in 2017. She was charged with performing FGM on two children, aged six to nine, in Livonia, MI. After two months, Dr. Fakhruddin Attar, the clinic owner, and his wife, Farida Attar, were charged for conspiring in the performance of FGM. Prosecutors added that Dr. Nagarwala traveled to Washington DC to perform FGM on as many as five children. Federal prosecutors also disclosed two female physicians were carrying out FGM aside from Dr. Nagarwala; the physicians are based in California and Illinois.
Pope Francis Reaffirms Catholic Refusal to Allow Same-Sex Marriage
https://www.atheistrepublic.com/news/pope-francis-reaffirms-catholic-refusal-allow-same-sex-marriage
Location: Vatican
On September 15th, in a media pool interview, the Catholic Pontiff once again issued a firm stance against same-sex marriage, stating that marriage is a sacrament which the church doesn't have the power to change. However, he stated that he is supportive of civil unions, adding that governments have "the possibility to give them [same-sex couples] safety, stability, and inheritance." Pope Francis also said that he does not support discrimination against the LGBTQ community despite his lack of support for same-sex marriage. In March of this year, Pope Francis, through a Vatican statement, made it clear, to the disappointment of pro-LGBTQ Catholics, that the church cannot bless same-sex marriage. The response was a decisive one-word - "negative."
Taliban Replaces Ministry of Women with Ministry of Virtue & Vice
https://www.atheistrepublic.com/news/taliban-replaces-ministry-women-ministry-virtue-vice
Location: Afghanistan
On September 17th, the sign on the building that had previously housed the Afghan Ministry of Women Affairs was replaced with another that translates to "Ministries of Prayer and Guidance and the Promotion of Virtue and Prevention of Vice." For weeks, the employees of the Ministry of Women Affairs were attempting to resume their work, but were turned away by the Taliban. Earlier that week, the Taliban's senior commander Waheedullah Hashimi declared that "Men and women cannot work together." Hashimi added that women are not allowed to come to their offices and work in the ministries. Mabouba Suraj, the founder of the Afghan Women's Network non-profit advocacy group, questioned "Is this the stage where the girls are going to be forgotten?" During the Taliban's previous stint in power from 1996-2001, the Ministry of Virtue & Vice was heavily criticized for the violent methods used in enforcement and implementation of Sharia law.
Cuba Drafts New Family Code, May Allow Same-Sex Marriage
https://www.atheistrepublic.com/news/cuba-drafts-new-family-code-may-allow-same-sex-marriage
Location: Cuba
On September 15th, Cuba's government published a draft of a possible new family code. The draft of Cuba's new family code explicitly defines marriage as a "voluntary union of two people… with absolutely equal rights and obligations." Aside from redefining marriage, the new regulation also broadens the criteria for adoption, paving the way for same-sex couples' inclusion. This code also allows children to play a more significant role in decisions that will affect them. The vice president of the National Union of Jurists of Cuba, Yamila Gonzalez Ferrer, expressed support for the new code. Gonzalez said that it would protect the right of each person to establish a family. Not everyone is excited about Cuba's draft of a new Family Code. Cuba, a predominantly Catholic country with 60-70% identifying as Catholics, has experienced some resistance to the new code.
Trans Woman Charged For Breaking Sharia Law by Wearing Women's Clothing
https://www.atheistrepublic.com/news/transwoman-charged-breaking-sharia-law-wearing-womens-clothing
Location: Malaysia & Thailand
Nur Sajat, a 36-year old cosmetics entrepreneur from Malaysia, is wanted after being charged by the Selangor Islamic Religious Department with violating Sharia law by wearing a baju kurung, a traditional garment worn by women. Currently, Nur Sajat is living in Thailand after escaping Malaysia. Thailand's immigration officers detained her on September 8th for illegal entry and for using an invalid passport. She was released after paying more than $2,000 (USD) in bail. Malaysia's Sharia courts are eager to extradite her back to the country for prosecution. An unidentified source claimed that Nur Sajat submitted a refugee application to the United Nations High Commissioner for Refugees. On September 20th, the Deputy Asia Director for Human Rights Watch, Phil Robertson, stated via Twitter that Nur Sajat should be "sent to a country that will offer rights protections, not persecuted for being LGBT."
Gay Priest Refuses to Marry Straight Couples to Protest Church Policy
https://www.atheistrepublic.com/news/gay-priest-refuses-marry-straight-couples-protest-church-policy
Location: Sweden
Lars Gardfeldt, a 56-year old priest of the Church of Sweden, recently announced his plans to use "conscientious objection" to justify his refusal to marry opposite-sex couples. Gardfeldt is an openly gay priest from Karl Johan Parish in Gothenburg, Sweden. He intends to make his point heard by demonstrating "the absurdity of refusing marriage to two consenting adults." He will be using the same method that other priests use to deny marriage to same-sex couples. Although the Church of Sweden has been offering religious blessings for same-sex couples who wish to be married, homophobic culture still permeates the church and its ranks. The ability for the priests of the Church of Sweden to conscientiously object to a marriage that they morally oppose has become the primary means of exercising that homophobia. Despite his plans, Gardfeldt admitted that not wedding opposite-sex couples will cause him "great sadness."
Atheist Republic TARGETED by False DMCA Takedown Notices; Twitter account at risk 
https://twitter.com/AtheistRepublic/status/1432281968578899968
Atheist Republic's Twitter account has been hit with another false DMCA copyright infringement notice. This unfounded takedown notice by the same individual who levied the first false claim against the account. This is particularly concerning because Twitter's policies state, "Please note that repeat violations of this policy may result in the suspension of your account." These false claims put the largest atheist-centered account on Twitter at risk of full suspension. Without contacts at Twitter, there is little hope of protecting the Atheist Republic account against these targeted false DMCA claims. If you or anyone you know has connections to Twitter, please reach out to Atheist Republic's CEO at Susanna@AtheistRepublic.com.