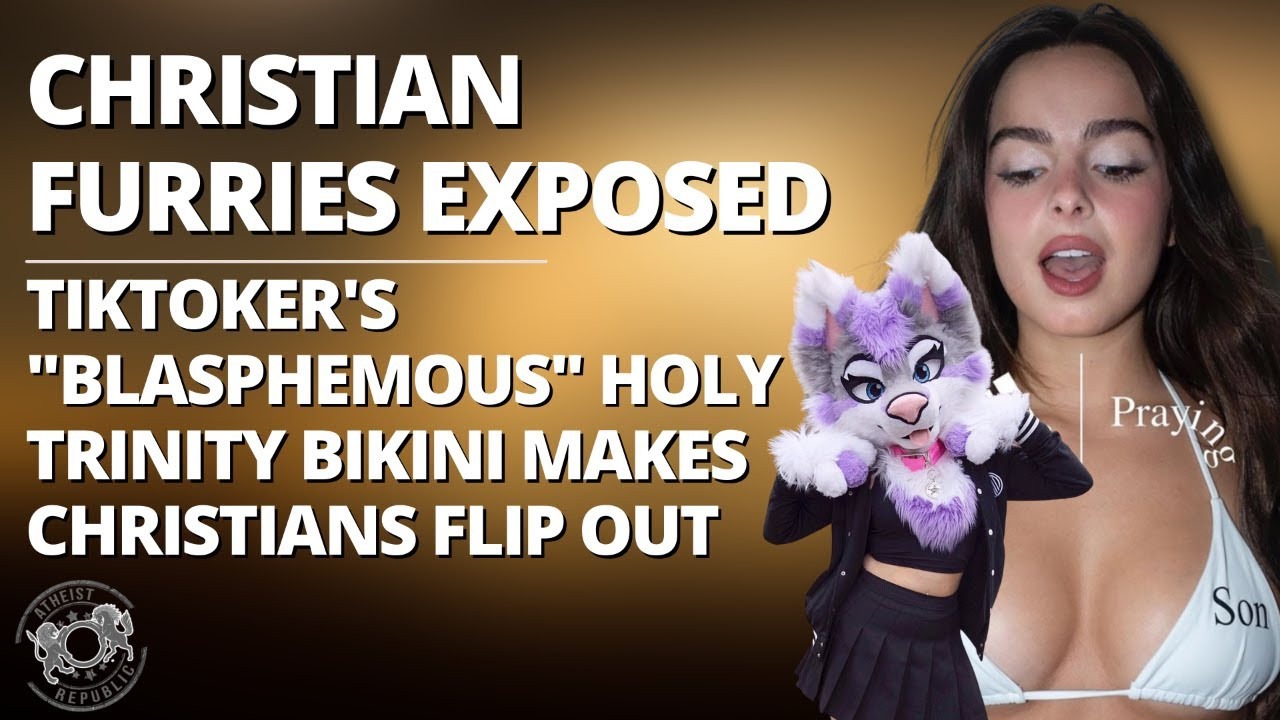 Faith & Furries: An Unlikely Duo
https://www.atheistrepublic.com/news/faith-furries-unlikely-duo
Location: Iran
In 2019, a video titled "Hund the Hound Meets Jesus Christ'' was uploaded on YouTube. The video shows a man wearing a blue dog mask and a plaid robe, who hits his head and faints and has a vision of Jesus Christ. The person behind the video is a 33-year-old Ohioan man, Hund the Hound, who is both a furry and a Christian. Hund and many other Christian furries believe that having two different identities is not problematic, while some disagree with their opinion. The International Anthropomorphic Research Project (IARP), a group of multidisciplinary scientists, is researching to comprehend the furry fandom better, naming the summary of research FurScience. According to FurScience, 1/3rd of the furries bluntly said that they are either agnostic or atheists. At the same time, a quarter of them identify as Christians. Co-founder of FurScience and an associate professor of psychology at Bishop's University, Courtney Plante, said, "Given that most furries are LGBTQ+, this may preclude many from being religious, especially if the religion is at odds with LGBTQ+ people."
Christians Flip Out Over TikToker's "Blasphemous" Holy Trinity Bikini
https://www.atheistrepublic.com/news/christians-flip-out-over-tiktokers-blasphemous-holy-trinity-bikini
Location: USA
Tiktok celebrity and model Addison Rae is at the center of controversy after sharing a photo on Instagram of herself wearing the "Holy Trinity bikini" that many believe to be blasphemous against the Christian faith. She uploaded the image on August 2nd but took it down soon after. In the photo, she only showed off the bikini top, which has "Father" and "Son" printed on each breast. However, the bikini panties also include "Holy Spirit" at the bottom. The Holy Trinity bikini is a part of a collection by the clothing brand, Praying. Devout Christians found it to be extremely disrespectful. Christian influencer Brittany Dawn Nelson made a video where she stated, "I felt sick to my stomach." Praying's Instagram account has received a lot of comments calling for the site to be shut down. Despite the backlash, the bikini is still available for sale for $100. Addison Rae, meanwhile, quietly deleted the Instagram post without addressing the outrage.
Iranian Media Says Women Don't Like Chador Because It's "Too Expensive''
https://www.atheistrepublic.com/news/iranian-media-says-women-dont-chador-because-its-too-expensive
Location: Iran
On July 9th, the state-controlled Fars News Agency published an article stating that the country's women do not like the black chador (a modest floor-length cloak secured under the chin, common among Shia Muslims) because it's "too expensive." On July 16th, the news agency repeated the statement in an article titled "Why Black Chador Isn't Sold at Government Prices." "The Islamic hijab is the most expensive covering, the most difficult to both find and afford. Not only have we failed to manage patterns of consumer behavior in society and to lay the appropriate groundwork, but our adversaries have planned how to exploit them and have directed the garment industry and market towards their own goals," reads a statement from the newspaper Resalat on July 22nd. A business journalist in Iran said, "Hair salons charge around $94.50 for trimming and coloring. An ordinary black chador costs less than $31.50. So any change in women's behavior is not down to price." After living under the mandatory veiling laws for years, Iranian women have gotten bolder about showing their discontent. In 2014, Iranian journalist and activist Masih Alinejad kicked off the "My Stealthy Freedom" campaign, which grew to be a large movement challenging the compulsory hijab law. Yasmin Ariani and Saba Kordafshar are two of the many women imprisoned in Iran for their civil disobedience of unveiling in public.
Taliban Bride Abduction Scheme Exposed by Undercover Journalist
https://www.atheistrepublic.com/news/taliban-bride-abduction-scheme-exposed-undercover-journalist
Location: Afghanistan
When the U.S. security forces left Afghanistan in August 2021, and the Taliban took over the country, the Taliban spokesperson Zabilhullah Mujahid assured the international community that it would be a different government than their previous attempt to rule the country in the 1990s, when girls could not attend school. Undercover journalist and filmmaker Ramita Navai exposed the Taliban's empty promise. In her documentary, Afghanistan Undercover, secretly filmed in Afghanistan's provinces, Navai investigates rumors that young women are being arrested and "disappeared" and that girls are being forced into marriage with Taliban soldiers. Taliban soldiers, including those in high positions, are abducting the girls they desire without the family's consent or forced consent. She also found that many missing women had been arrested for "moral crimes," such as improperly covering themselves and daring to be outside without a male guardian. None of these arrests are officially recorded, and the women are effectively disappeared. Navai came across some Afghan women fighting back. Two of the women she interviewed were arrested soon after. Both women served a three-month prison sentence and have since fled the country.
Anglican Church Battles Over Homosexuality, Reaffirms it as "Sin"
https://www.atheistrepublic.com/news/anglican-church-battles-over-homosexuality-reaffirms-it-sin
Location: United Kingdom
Recently, to appease the conservative bishops, the Archbishop of Canterbury Justin Welby, the leader of the global Anglican Church, "affirmed the validity" of the 1998 Lambeth Call, which declared homosexual acts to be a sin. According to the original documents, "It is the mind of the Anglican Communion as a whole that same-sex marriage is not permissible." Welby affirmed the validity of the declaration during the once-a-decade Lambeth conference with around 650 attending bishops, most of whom believe that questioning the biblical teaching is "unthinkable." Some institutions under the Anglican church are opposed to same-sex marriage; some have accepted it. Those that conduct or bless same-sex marriages are churches in Scotland, Wales, the United States, Canada, New Zealand, Brazil, and Mexico. In contrast, those strongly opposed to this practice are from churches in Sub-Saharan Africa, Nigeria, Rwanda, and Uganda. This has also caused bitter divisions among churches and their congregants. Bishop John Harvey Taylor of Los Angeles said the declaration "divides, hurts, scapegoats, and denies." The LGBTQ+ community heavily criticized this reaffirmation from the Archbishop of Canterbury. A statement in opposition to his move, signed by ninety bishops, including eight archbishops, stated, "We look forward to the day when we all may feel truly welcomed, valued, and affirmed."
Suspected Islamist Militants Killed, Burned Alive 20 in Congo
https://www.atheistrepublic.com/news/suspected-islamist-militants-killed-burned-alive-20-congo
Location: Congo
On July 1st, 20 people were killed in two attacks by suspected Islamists that took place in two neighboring villages in eastern Congo. Alice Kyanga, whose parents were among the victims in the recent killings, said they had their throats cut. Some of the residents were still alive when their homes were set on fire by the attackers. Christophe Munyandero, a local coordinator of the Convention for the Respect of Human Rights, said that the perpetrators were believed to be members of the Allied Democratic Forces (ADF). ADF is an Islamist rebel group in a region that is majority populated with Christians, and the group is considered the deadliest operating in the area. According to the Center for Strategic and International Studies, the ADF released a manifesto in 1997 declaring the aim of overthrowing the Ugandan government, and later they moved into regions of the Democratic Republic of Congo. Islamism has been a component of the group from inception, but broader claims of its goals have been vague, earning them the label "rebellion without a cause." The ADF is a recognized affiliate of ISIS and, just last April, renewed its pledge to the new IS leader Abu al-Hassan al-Hashimi al-Quraishi.
String of Muslim Murders Leaves New Mexico Community on Edge
https://www.atheistrepublic.com/news/string-muslim-murders-leaves-new-mexico-community-edge
Location: New Mexico, United States
Recently, the horrific serial killings of four Muslim men of South Asian origin in Albuquerque, New Mexico, have sparked great fear in the Islamic community of the United States. The victims include Mohammad Zaher Ahmadi, 62, from Afghanistan, Muhammad Afzaal Hussain, 27, Naeem Hussain, 25, and Aftab Hussein, 41, all from Pakistan. The Turkish government condemned the killings and demanded that perpetrators of these murders "be found immediately and brought to justice." President Joe Biden tweeted that he is "angered and saddened by the horrific killings of four Muslim men in Albuquerque." On August 8th, the brutal murders of the four men were linked to Mohammad Syed, the primary suspect in at least two of the killings. Syed is a refugee who moved from Afghanistan to the United States within the past ten years and has denied his guilt. It was a tip from within the Albuquerque Muslim community that ultimately led police to identify Syed. It has also been reported that Syed, a Sunni Muslim, was upset about his daughter's marriage to a Shia Muslim. Two of the victims were friends of his daughter and Shia Muslims. Bullet casings found in Syed's car matched the caliber of the weapon used to kill Aftab Hussein and Muhammad Afzaal Hussain, and he has been charged with their murders. An investigation into the killings of Mohammad Zaher Ahmadi and Naeem Hussain is still ongoing, with Syed as the primary suspect.
"Ark Encounter" Owner Ken Ham Sues Insurance Company for Rain Damage
https://www.atheistrepublic.com/news/ark-encounter-owner-ken-ham-sues-insurance-company-rain-damage
Location: Kentucky, United States
Ark Encounter, a young earth creationist theme park in Williamstown, Kentucky, filed a lawsuit against its insurance company to collect damages caused by heavy rains in 2019. The park is the brainchild of Ken Ham, a Christian fundamentalist, and is known for its "life-size" replica of Noah's Ark. This massive 510 feet long centerpiece is based on the vessel that saved all life in the apocalyptic flood as narrated in the Bible. The ark also claims to be the largest timber-frame structure in the world. Heavy rainfall in 2017 and 2018 caused landslides that blocked the roads that led to it, costing the theme park almost a million dollars in damages. The theme park has filed a lawsuit against its insurers, who refused to pay for the damages caused by the rain. Melany Ethridge, a spokeswoman at the theme park's public relations firm said, "The lawsuit speaks for itself. We don't have anything to add at this time other than to say that we are highly confident of the merits of our case as we seek a fair resolution to the matter."
Iranian Atheist Prisoner's Mother Sent to Jail for Defending Son's Rights
https://www.atheistrepublic.com/news/iranian-atheist-prisoners-mother-sent-jail-defending-sons-rights
Location: Iran
On August 2nd, Farangis Mazlum, the mother of Iranian atheist political prisoner Soheil Arabi, was brought to the Judgment Enforcement Unit of the Evin Prison in Iran. She will serve an 18-month custodial sentence for speaking out against her son's arrest and the torture he experienced in prison. Her son Soheil was first arrested in November 2013 for allegedly insulting the Prophet Muhammad on his Facebook post. He was eventually released on November 16th, 2021, yet he has been sentenced to an additional two years of "internal exile." Mazlum herself was first arrested on July 22nd, 2019, by Iran's Intelligence Ministry agents after speaking out against her son's imprisonment and giving interviews to foreign media. Later she was also charged with "assembly and collusion with the intention of committing crime through contacting the People's Mojahedin Organization (also known as MEK, an Iranian anti-regime terrorist organization)" and "disseminating propaganda against the state and in favor of dissident groups." The continued years-long judicial harassment of Farangis Mazlum despite her frail health condition, including a recent stroke in July, has been condemned as a blatant attempt to silence her outspoken son Soheil Arabi and her own burgeoning activism. While speaking to IranWire, Arabi talked about how his mother became a civil rights champion after he was arrested. "She went from being a mother to a fighter," Arabi said. In 2020, Farangis Mazlum gave an interview to Atheist Republic, despite the great risk of doing so. You can watch full interview with this courageous woman here, with English captions.
Atheist Republic News On Break While Susanna & Armin attend Celebrating Dissent 2022
https://cd2022.freethoughtlebanon.net/
There will be no Atheist Republic News show on Saturday August 20th, as Susanna and Armin will be speaking at Celebrating Dissent 2022 in Cologne, Germany. The AR News show will return on Saturday August 27th, at a new time.