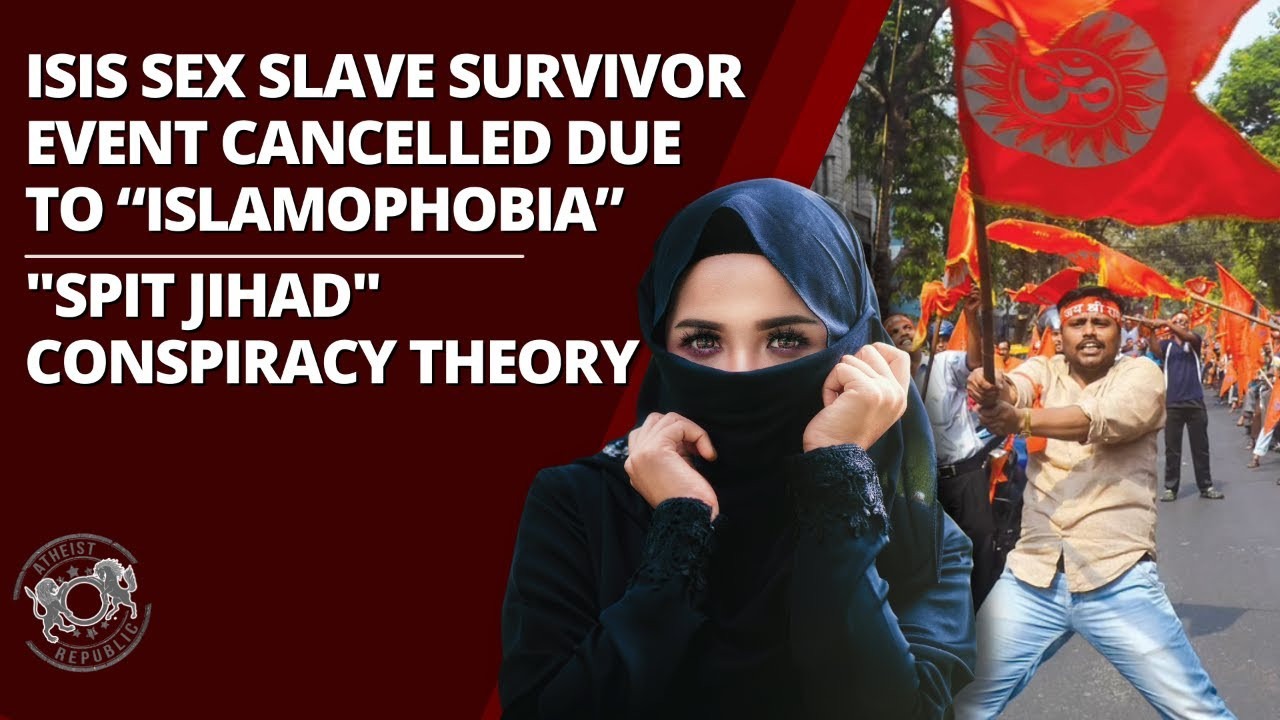 ISIS Sex Slave Survivor's Book Event Canceled Due to "Islamophobia"
https://www.atheistrepublic.com/news/isis-sex-slave-survivor-book-event-cancelled-due-islamophobia
Location: Toronto
The Toronto District School Board (TDSB) has recently canceled a book event featuring Nadia Murad, author of The Last Girl: My Story of Captivity, andMy Fight Against the Islamic State. 28-year-old Murad is a survivor of the Yazidi genocide, a Nobel Peace Prize Laureate, and a human rights activist. She was captured by ISIS at the age of 19, and was taken into slavery for three months before she escaped. According to TDSB, Murad's book could offend some Muslim students and promote "Islamophobia." This event was supposed to be held by "A Room of Your Own" book club, which holds author discussion events with girls between the ages of 13 to 18 years old. Rex Murphy, a commentator for the National Post, slammed the equity department of TDSB, saying "The case of Nadia Murad combines determined ignorance and profound insult."
"Spit Jihad;" the Latest Anti-Muslim Accusation from Hindu-Nationalists
https://www.atheistrepublic.com/news/spit-jihad-latest-anti-muslim-accusation-hindu-nationalists
Location: India
On Monday, November 15th, a seven-second video of "evidence of Thook [Spit] Jihad" spread like wildfire on social media and was amplified by several right-wing Indian media outlets. The video shows a Muslim man baking chapatis, unleavened flatbread, and allegedly spitting on the bread. The man filming the video can be heard calling Muslims pigs and encouraging others to "boycott these mullahs." Hardline right-wing groups in India are using the video and similar footage to accuse Muslim minorities of attacking Hindus by contaminating their food. The Muslim man seen on the video was detained following a complaint filed by Hindu Raksha Dal (Hindu Safety Organization). Speaking to The Wire, a worker from a popular restaurant in Delhi explained that sometimes the bakers need to blow extra dry flour so the bread will stick properly while being cooked. "These videos are false stories meant to spread hatred," the worker added.
Jewish Cult Convicted of Kidnapping & Child Sexual Exploitation
https://www.atheistrepublic.com/news/jewish-cult-convicted-kidnapping-child-sexual-exploitation
Location: USA
On November 10th, two top leaders of the Jewish extremist cult "Lev Tahor" were convicted in federal court by the United States Department of Justice (DOJ) on charges of kidnapping and child sexual exploitation. 39-year old Nachman Helbrans and 45-year old Mayer Rosner were both involved in the planning and the execution of the kidnapping of Helbran's 14-year old niece and 12-year old nephew. Around 2017, Helbrans arranged for his then 12-year old niece to marry an 18-year older adult. The following year, the two were religiously "married" and began obligatory sexual relationships right away. In October 2018, the children's mother escaped from Lev Tahor's Guatemala compound to the U.S, and was later awarded sole custody. After the mother escaped, Helbrans and Rosner began creating a plan to return the 14-year old girl to her husband "so that they could resume their sexual relationship and procreate." According to the DOJ, the group smuggled the children from the US to Mexico using "aliases, drop phones, fake travel documents, and encrypted application." After weeks of searching, the children were recovered from Mexico. There were two further kidnapping attempts in 2019 and 2021. Rosner and Helbrans face a potential maximum sentence of life imprisonment for their offenses.
https://www.atheistrepublic.com/news/iran-limits-condom-usage
Location: Iran
On November 16, 2021, Iranian president Ibrahim Raisi, signed into law the "Rejuvenation of the Population and Support of the Family" bill, which sparked a backlash from human rights watchdogs, NGOs for women's rights, and HIV/AIDS prevention advocacy groups. The bill, which is due to be enacted within a few weeks, will prohibit sterilization and the distribution of free contraceptives in Iran's public health care system. The only outlined exception is when a pregnancy will threaten a woman's life. According to Tara Sepehri Far, senior Iran researcher for the Human Rights Watch, Iran's legislators are ignoring the severe problems of incompetence, corruption, and repression that obliterated the nation's economy and therefore motivates couples to have fewer, or entirely forgo having children. Instead, they approved a law that "blatantly undermines the rights, dignity, and health of half of the country's population." Far added that the Iranian government is "denying them access to essential reproductive health care and information." The law will likely make more individuals "highly vulnerable to HIV" and lead to an increase in cases of HIV infection.
Indonesia's Islamic Council Declares Cryptocurrency "Forbidden"
https://www.atheistrepublic.com/news/indonesia-s-islamic-council-declares-cryptocurrency-forbidden
Location: Indonesia
On November 11th, Indonesia's National Ulema Council (MUI) declared that cryptocurrency is "haram," or religiously forbidden. According to Asrorun Niam Sholeh, the MUI's head of religious decrees, cryptocurrencies constitute uncertainties in their use and behave like wagering. The MUI is a body of Islamic scholars with significant influence in the country, as the council advises the government, including Indonesia's finance ministry, on its adherence to Sharia law. Cryptocurrency is currently being traded as a commodity in Indonesia, with trades between January to May 2021 reaching $25.96 billion, according to Indonesia's finance ministry. However, the Indonesian government does not officially recognize the buying power of cryptocurrencies as legal tender in the country. Despite the MUI's latest announcement, the country's central bank, Bank Indonesia, has been planning to create a digital currency, but has not announced any official plans.
Iran's Bid to Ban Pet-Ownership
https://www.atheistrepublic.com/news/irans-bid-ban-pet-ownership
Location: Iran
On November 9th, Iran's parliament confirmed receiving a bill that criminalizes owning pets, especially animals deemed "unclean" by Islamic law. The bill aims to expand the Islamic Penal Code to ban the importation, sale, and keeping of various animals. The "Bill for the Protection of Public Rights Against Harmful and Dangerous Animals" claims that "walking and playing with animals such as dogs and monkeys outdoors are harmful to the health and the peace of other people, especially kids and women," and that such acts are against Islamic culture. It lists dogs, rabbits, and turtles as "wild, unconventional, harmful, and dangerous," in the same category as snakes and crocodiles. Iran's religious morality police have previously cracked down on dog and pet owners. Some conservative hardliners in Iran also view pet ownership as a "cultural invasion."
80-year-old Egyptian Sentenced to 5 Years in Prison for "Contempt of Islam"
https://www.atheistrepublic.com/news/80-year-old-egyptian-sentenced-5-years-prison-contempt-islam
Location: Egypt
On November 18th, the Nozha Misdemeanors Court of Egypt sentenced noted lawyer and intellectual Ahmed Abdo Maher to five years in prison for "contempt of Islam." The case started when Samir Sabry, a controversial Egyptian lawyer, filed a complaint against Maher before the prosecutor general. Maher's lawyer said an investigation by an Emergency State Security Misdemeanor Court claimed that Maher was "violating social peace and provoking sedition in his book." According to the investigation, Maher labeled the early Islamic conquests as military invasions. Maher also claimed that theses conquests were invasions "aimed to enslave women rather than spread Islam." Further, he demanded that Al-Azhar University, one of the world's most important centers for Sunni-Islamic thought, apologize on behalf of Prophet Muhammad's descendants who initiated the conquest. The emergency state security court declared that Maher is stirring up sectarian strife and posing a threat to national unity.
Taliban Bans Women from TV Dramas
https://www.atheistrepublic.com/news/taliban-bans-women-tv-dramas
Location: Afghanistan
On November 21st, the Taliban issued a guideline to broadcasters banning women from appearing in television soap operas and entertainment shows. It also mandates female journalists and news presenters to wear headscarves. The new guideline issued by the Ministry for the Propagation of Virtue and the Prevention of Vice contained eight directives. This includes a prohibition on films that "promote foreign culture and values" and films that include men exposing "intimate body parts." The Taliban's restrictions are slowly mounting; this time, they are imposed on the airwaves. The guidelines also direct broadcasters to ensure that entertainment and comedy are not "based on insulting others, nor for the insult of human dignity and Islamic values." This includes shows or any footage that depicts the Islamic prophets and their disciples. Despite their initial statements to establish a more moderate appearance, the recent actions from the Taliban are starting to overwhelm their previous rhetoric.
"De-Baptisms" Increase as Italian Apostasy Rises
https://www.atheistrepublic.com/news/de-baptisms-increase-italian-apostasy-rises
Location: Italy
The Union of Rationalist Atheists and Agnostics (UAAR) made de-baptism possible two decades ago in Italy. They launched an online registry where people can submit applications for de-baptism. UAAR estimates that more than 100,000 people have already been de-baptized in Italy. In 2020, according to the Diocese of Brescia in eastern Milan, they alone received 27 applications for de-baptism. This year, as of August, they have de-baptized 72 people. Although data is lacking, the actual numbers may be higher. According to Reverend Daniele Mombelli, the vice-chancellor of the Diocese of Brescia, anyone who applied for "de-baptism" is committing the crime of apostasy. This "crime" is punished with automatic excommunication, prohibitions on becoming a god-parent, and losing the right to a Catholic funeral. Other than disbelief, people who have de-baptized mentioned social issues like LGBTQ rights, euthanasia, and abortion as the driving cause behind their decision to leave the Catholic Church.
Indian Government BLOCKS Blasphemous Art Website
https://www.atheistrepublic.com/news/indian-government-blocks-blasphemous-art-website
In mid-November 2021, it was discovered by Atheist Republic's legal council in India that our site, BlasphemousArt.com has been blocked by the Ministry of Electronics and Information (MeitY) in India. This is the latest attempt from the Government of India to completely cut off Indian non-believers' access to Atheist Republic, the largest community of atheists in the world. To ascertain which specific internet service providers have blocked this website, Atheist Republic has distributed a survey to all of our consulates (local meet-up groups) in India. Initial results reveal that the website is blocked for some users in Delhi, Kerala, West Bengal, and two other states. This recent blocking of our backup website BlasphemousArt.com reiterates the importance of subscribing to Atheist Republic's newsletter, which can never be blocked by a government or banned by a social media company. You can subscribe to the newsletter at https://www.atheistrepublic.com/newsletter