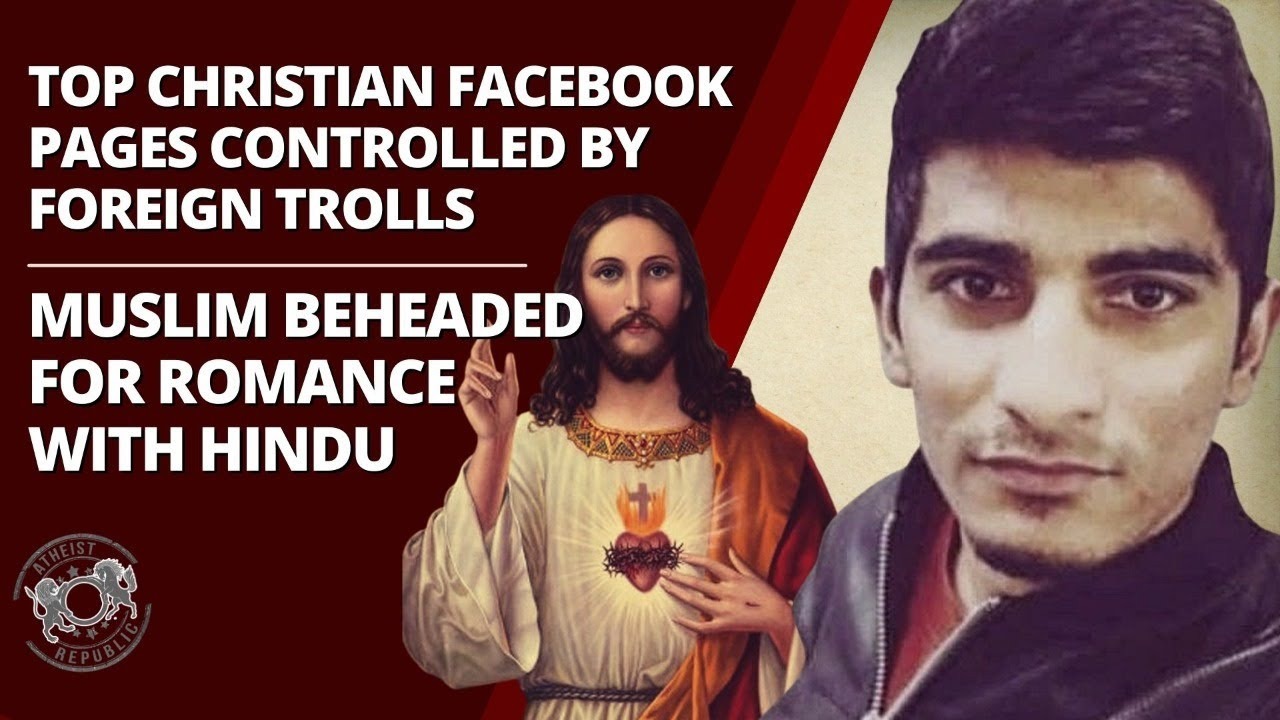 New Report: Top Christian Facebook Pages Controlled by Foreign Trolls
https://www.atheistrepublic.com/news/new-report-top-christian-facebook-pages-controlled-foreign-trolls
Location: USA
The MIT Technology Review obtained a leaked Facebook internal data-research report from a former employee in 2019. The report stated that 19 out of the top 20 pages churning out massive amounts of Christian content were managed by troll farms. The separate pages creating different ranges of content were controlled by the same troll farms based in Kosovo and Macedonia. Around 75% of the combined monthly engagement of the pages are from users who did not like or follow the page. Jeff Allen, the author of the 2019 report, said, "instead of users choosing to receive content from these actors, it is our platform that is choosing to give [these troll farms] an enormous reach." The only top Christian page that was not controlled by trolls was an anti-LGBTQ page called Guideposts. Facebook spokesperson Joe Osborne explained that they have already started investigating the results of the report.
Muslim Beheaded for Interfaith Romance; Hindu-Nationalists Suspected
https://www.atheistrepublic.com/news/muslim-beheaded-interfaith-romance-hindu-nationalists-suspected
Location: India
On September 27th, Arbaz Mullah, a 24-year-old Indian Muslim man, went missing. The next day, he was found headless on a railway track in the Belgavi district in Karnataka, India. Mullah was in a romantic relationship with a Hindu girl. The idea of "love jihad" is a conspiracy popular among right-wing Hindu-nationalists that accuses Muslim men of tricking Hindu women into falling in love with them to convert them to Islam. Mullah's mother said that her son had been threatened on multiple occasions by members of a local Hindutva organization. The autopsy revealed that Mullah's manner of death was a homicide. Allegedly the local Hindutva group summoned Mullah to the city to settle their issue once and for all, and a fight broke out that resulted in Mullah's murder. His mother strongly suspected that the father of the girl he was in a relationship with was involved. The police have detained members of the girl's family for questioning.
Uyghur Muslim Businessman Confirmed Dead in Chinese Prison
https://www.atheistrepublic.com/news/uyghur-muslim-businessman-confirmed-dead-chinese-prison
Location: China
Local officials in China's Xinjiang province declared that a notable Uyghur businessman and philanthropist, Yaqub Haji, died in prison. One of Haji's friends, in an interview with Radio Free Asia, said he was arrested in 2018 because he made donations to build a mosque and gave 3,000 yuan to a religious cleric to build a house. The Chinese government considered his donation as "support for terrorism" and was tortured for confession. On September 6th, his body was returned to his family in an advanced state of decomposition. Haji is the latest victim of the Chinese government's ongoing campaign that actively targets millions of enthic Uyghur and Kazak people in business, academics, and cultural and religious figures, in an attempt to destroy their identity.
"Mentally Unsound" Woman Sentenced to Death for Blasphemy
https://www.atheistrepublic.com/news/mentally-unsound-woman-sentenced-death-blasphemy
Location: Lahore, Pakistan
On Monday, September 27th, a session court in Lahore, Pakistan, found a school principal, Salma Tanveer, guilty of blasphemy charges and sentenced her to death. Tanveer was charged with blasphemy in 2013 for distributing pamphlets describing herself as the last Prophet of Allah. Court records showed that a Khateeb (a prayer leader) from Bahadurabad, a neighboring city of Lahore, complained against Tanveer. Previously, the Punjab Institute of Mental Health diagnosed Tanveer with Schizoaffective Disorder. Tanveer's lawyer argued that his client is an "unsound-minded person," which led to the suspension of her trial in 2015. In 2019, the Punjab Institute of Mental Health released an updated diagnosis stating that Tanveer is now fit to stand trial. The verdict stated that "she shall be hanged by her neck until her death."
Muslim Businesses Suffer Attacks by Hindu Vigilantes
https://www.atheistrepublic.com/news/muslim-businesses-suffer-attacks-hindu-vigilantes
Location: India
The economic marginalization of Muslims in India is becoming more apparent as small-time vendors, shop owners, and even industrialized businesses are often attacked by Hindu-nationalists. Attacks against Muslim-owned businesses come in many forms; violence is usually reserved for Muslim men who conduct business in the streets. Big-scale businesses suffer severe online disinformation campaigns. At the same time, policymakers create a legal atmosphere that puts unnecessary pressure on Muslim-owned companies. "We have nowhere to complain. The police and the municipality officials side with such groups," said Afzal, a business owner in Uttar Pradesh. As nearly half of Muslims in urban India are self-employed, this trend of attacks against small vendors could have far-reaching economic implications.
Displays of Women Vandalized in Israel; Hardline Jewish Groups Suspected
https://www.atheistrepublic.com/news/displays-women-vandalized-israel-hardline-jewish-groups-suspected
Location: Israel
For more than two years, starting in 2019, the Lonka Project's 250 plus artists have been working on photographing and commemorating the last remaining Holocaust survivors. The exhibition started in April 2021; since then, images of Peggy Parnass, a Holocaust survivor, have been vandalized five times. Jim Hollander, a curator of the Lonka Project, understands that the vandalism on Parnass's image is not anti-semitism. "This is anti-feminist," he declared. For many Israelies, the attack conveys a more profound pain knowing that the perpetrators are from within. For the past 20 years, advertisements and other imagery with women on them have been repeatedly torn down or painted over by ultra-Orthodox extremists. Hassan-Nahoum said that the radicals are trying to erase women from the public space. She added, "This is not Kabul; this is Jerusalem."
Blasphemous Muhammad Cartoonist Lars Vilks Dies in Car Crash
https://www.atheistrepublic.com/news/blasphemous-muhammad-cartoonist-lars-vilks-dies-car-crash
Location: Sweden
On October 3rd, Lars Vilks, the Swedish artist who became controversial in 2007 for drawing the Prophet Muhammad with a dog's body, died in a car accident. According to investigators, the collision also killed two police officers who were escorting Vilks. The 75-year old artist had been living under police protection since his cartoons were made public. The global outrage surrounding his work led the prime minister at the time to meet with representatives from 22 Muslim countries. Not long after the meeting, a $100,000 bounty was put up by Al-Qaeda in Iraq as a reward for his death. Known for his driftwood sculptures installed without permission in the Swedish nature reserve, Vilks was considered a contrarian artist. Vilks claimed that his portrayal of Muhammad was a statement against political correctness in the art world. Police are investigating the crash, but so far no foul play is suspected.
Arizona Mother Shoots 2 Children, Wanted Them "To Go To Heaven"
https://www.atheistrepublic.com/news/arizona-mother-shoots-2-children-wanted-them-go-heaven
Location: Arizona
On September 27th, Esther Callejas, a 24-year old mother of two from Arizona, fatally shot one of her children. Phoenix police Sergeant Ann Justus said in a statement that Callejas shot her children because she wanted them "to go to heaven." One of Calleja's neighbors said off-record that she might have been going through mental health issues. The 2-year old girl, Esperanza Isidro, was pronounced dead in the hospital. The 6-year old boy remains in critical condition. The children's father had previously called the police on September 14th, reporting his concern over the welfare of his family. Callejas was charged with first-degree murder and is currently detained at the Maricopa County Jail.
"Scientific" Paper Blasted: Claims Asteroid Destroyed Sodom & Gomorrah
https://www.atheistrepublic.com/news/scientific-paper-blasted-claims-asteroid-destroyed-sodom-gomorrah
Location: USA
Critics blasted a study published in the online journal Scientific Report on September 20th, 2021. The abstract of the article opened with a bold claim saying that they "present evidence that in 1650 BCE a cosmic airburst destroyed Tall el-Hammam, a Middle-Bronze-Age city in the southern Jordan Valley northeast of the Dead Sea," referring to the biblical city of Sodom. The gravest mistake the authors of the meteor theory for Sodom's destruction made was using physicist Dr. Mark Boslough's model of asteroid airburst. Boslough personally gutted the journal, Scientific Report, for publishing such pseudo-science. His tirade has thus far not been responded to by any of the authors. Other experts who caught wind of the controversial study started dissecting the supposed facts and credible science the authors carried out. Archeologist Matthew Boulanger tweeted a step-by-step explanation of why the study's carbon dating is incorrect.
Steven Pinker & Lawrence Krauss Endorse Statement to Include Afghan Atheists in Refugee Resettlement
https://www.atheistrepublic.com/press-release/secular-organizations-charge-government-errors-afghan-humanitarian-program
Atheist Republic has joined over 50 individuals and Canadian secular organizations in releasing a statement on the current omission in the Special Humanitarian Assistance Program for Afghan Nationals, which excludes Afghan atheists fleeing persecution. This joint statement represents a nationwide campaign of support backed by the widest gamut of Canadian atheists and humanists ever seen. The signatories include notable figures such as physicist Lawrence Krauss and cognitive psychologist Steven Pinker. This collaborative endeavour urgently calls upon the government of Canada to immediately issue a clarification of its Special Humanitarian Assistance Program for Afghan Nationals, to explicitly include non-religious Afghan atheists, humanists, and agnostics as eligible for resettlement in Canada.