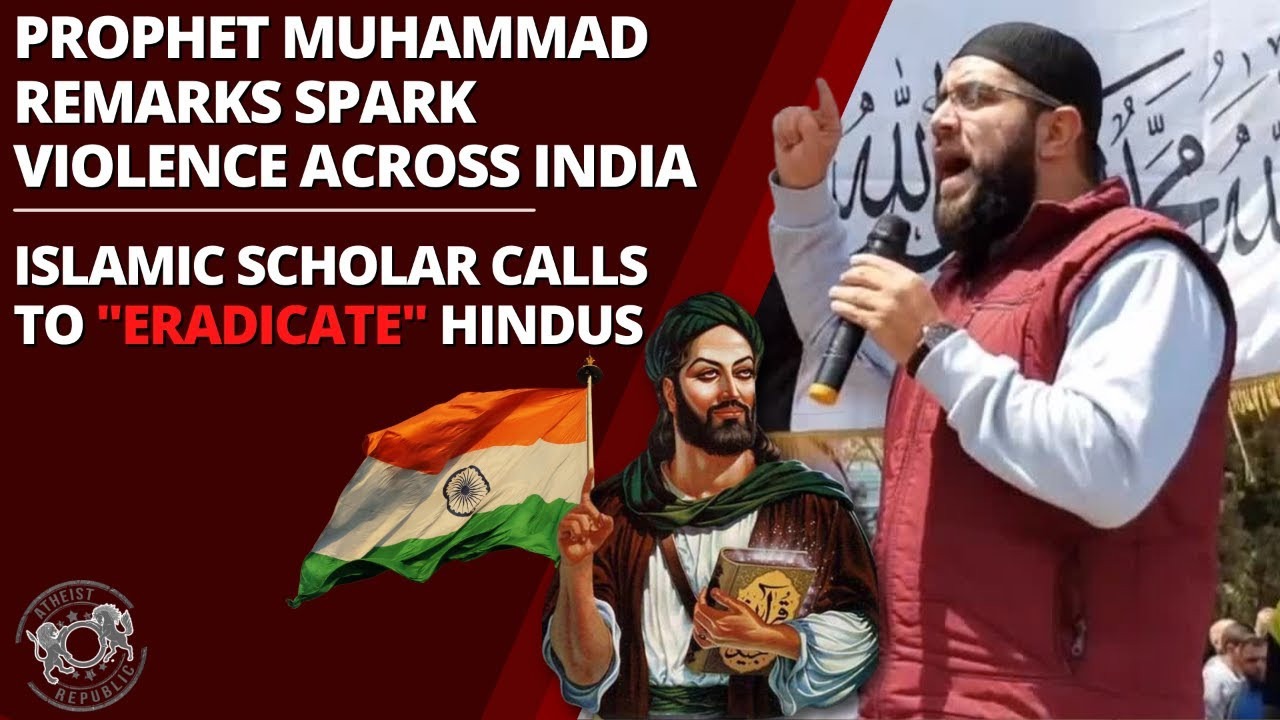 Remarks Against Prophet Muhammad Sparks Violence Across India; Teens Killed
https://www.atheistrepublic.com/news/remarks-against-prophet-muhammad-sparks-violence-across-india-teens-killed
Location: India
Recently, Muslims have protested across India over the blasphemous remarks against the Prophet Muhammad made by the ruling party's media spokespeople. The comments garnered international condemnation from Muslim-majority counties like Kuwait, Iran, and Qatar. The remarks have also caused domestic unrest across the nation. Two teenagers have died related to the protests against the blasphemy in Jharkhand. According to Al Jazeera, the families of the victims, 14-year-old Mudassir Alam and 19-year-old Sahil Ansari blamed the police for using "disproportionate force against the protesters." Dozens of protesters were also hurt, including a senior police officer. Hundreds were also arrested in the states of Uttar Pradesh and West Bengal. A witness said that the initial protests by Muslims were met by counter-protests organized by Hindu nationalists, worsening the situation.
Palestinian Islamic Scholar Declares Jihad & Calls to "Eradicate" Hindus
https://www.atheistrepublic.com/news/palestinian-islamic-scholar-declares-jihad-calls-eradicate-hindus
Location: Palestine
Nidhal Siam, a Palestinian Islamic scholar, recently held a hate rally at the Al-Aqsa Mosque in Jerusalem to protest comments deemed blasphemous towards Islam that were made by members of India's ruling BJP party. Siam declared Jihad, a religious war, to eradicate the "cow worshipping" Hindus who had "insulted" Islam and Prophet Muhammad. He also addressed the "affronts and hostilities" made by "the infidels" against the Muslims, including actions by France, Sweden, and China. Siam stated, "the only appropriate reaction is to declare Jihad for the sake of Allah and to discipline the infidels and polytheists, and by eradicating them." Mauritanian Islamic scholar Sheikh Muhammad Al-Hassan Al-Dadow Al-Shanqiti also added to the controversy when he appeared on a Turkish television program and advocated for "deporting the Hindu foreign workers from the Arab countries, especially from the Gulf countries."
After Protesting Against Islamic Blasphemy, Indian Muslim Homes Demolished
https://www.atheistrepublic.com/news/after-protesting-against-islamic-blasphemy-indian-muslim-homes-demolished
Location: India
Recently, protests erupted all over India due to the BJP spokesperson Nupur Sharma's remarks about the Prophet Muhammad and his wife, Aisha. Sharma was suspended from the party for her comments. Street protests and violent riots by angry Muslim mobs have been going on for days throughout the country. In Ranchi, the demonstrators pelted stones and torched vehicles. Under orders from Chief Minister Yogi Adityanath, authorities in Uttar Pradesh, India, used bulldozers to destroy the homes of people accused of being involved in the protests. Amnesty International issued a condemnation and described the action of authorities as "the excessive use of force in response to large-scale protests in the country." Many decry the demolitions as patently illegal and a brazen display of collective punishment. Ali Khan Mahmudabad, the Head of the Political Science Department at Ashoka University, said that the bulldozer had become a potent symbol of fear for the Muslims. He explained, "It's not just that you will go to jail, or you will get arrested, but your entire family will suffer."
Taliban Arrests Afghani YouTuber for "Insulting Islam & the Quran"
https://www.atheistrepublic.com/news/taliban-arrests-afghani-youtuber-insulting-islam-quran
Location: Afghanistan
Ajmal Haqiqi, a famous Afghan fashion model and YouTuber, and his colleagues were arrested for allegedly disrespecting "Islam and Afghan culture" in a recent video. The witty and cheerful fashionista is known for showcasing his funny and entertaining takes on ethnic Afghani fashion and lifestyle in his videos. In a widely circulated video, Haqiqi is seen laughing as his protégé Ghulam Sakhi uses his speech impairment for comedic effect while reciting verses of the Quran. That video was deleted on June 5th and replaced with an apology, but it failed to satisfy the Taliban. Two days later, Haqiqi appeared distraught as he was held captive in two short videos released by the Afghan General Directorate of Intelligence (GDI). Haqiqi was made to apologize in one of the videos. On June 8th, responding to the arrests, a statement was released by Amnesty International, demanding the release of Haqiqi and his colleagues. Since August 2021, the Taliban has detained numerous individuals without trial and coerced them into making forced statements to suppress criticism in the country and prevent others from voicing their opinions.
How Anti-Muslim Pop Songs are Fueling Violence in India
https://www.atheistrepublic.com/news/how-anti-muslim-pop-songs-are-fueling-violence-india
Location: India
Recently, anti-Muslim songs filled with hateful lyrics are becoming a centerpiece of nationalist rallies and meetings in India. Earlier this year, a Hindu priest paraded near a mosque in Uttar Pradesh while blasting anti-Muslim songs and calling for the sexual assault of Muslim women. In April 2021, during the celebration of the birth of Lord Ram, these songs can be heard blasting from loudspeakers, followed by violent Muslim vs. Hindu street clashes. Hidayatullah Mansuri, a mosque official, said, "These songs make open calls for our murder, and nobody is making them stop." The increasingly popular anti-Muslim songs are being called "Saffron Pop." Prem Krishnavanshi, a so-called Saffron Pop singer, has songs calling for the end of Muslim-Hindu brotherhood. In one of his songs, he accused Muslims of being anti-national and said they should move to Pakistan. He defended himself by saying, "My music signifies truth, and if someone thinks it's Islamophobic, I can't stop them from feeling that way."
Mob Kills Man & Burns Body After Argument with Islamic Cleric In Nigeria
https://www.atheistrepublic.com/news/mob-kills-man-burns-body-after-argument-islamic-cleric-nigeria
Location: Nigeria
On June 4th, a Muslim mob burned a 30-year-old Nigerian man, Ahman Usman, to death in the capital of Abuja. Usman, a security officer in The Vigilante Group of Nigeria in Abuja's Lugbe area, was allegedly accused of blasphemy. According to locals, Usman attempted to arrest a fried yam seller, Malam Lawan, who refused to pack up his produce after closing time at a local marketplace. Mr. Lawan has also been identified as a Shite cleric. Residents say that the cleric asked Usman to let him continue. An hour after closing, a heated argument ensued in which Usman said he could not give him any more time even "in Allah's name" and was thereby accused of blasphemy. Hours later, a mob of 200 people showed up at the security office, started pelting stones, and set a fire in front of the station. Some of the security staff escaped, but Usman was grabbed by the mob, beaten, and thrown into the fire. He was later declared dead on arrival at the hospital due to his injuries. Usman was the second person to be burnt to death for blasphemy within three weeks in Nigeria.
Shia Muslim Propaganda Film "Lady of Heaven" Sparks International Outrage & Bans
https://www.atheistrepublic.com/news/shia-muslim-propaganda-film-sparks-international-outrage-bans
Location: UK
Released on June 3rd, the movie, The Lady of Heaven, sparked numerous protests across the United Kingdom as many from the Muslim communities deemed it to be "blasphemous" and "spreading false information about Islam." The film depicts the life and struggles of Lady Fatima, the daughter of Prophet Muhammad. In the movie, Lady Fatima is described as 'the first victim of terrorism.' The film's narrative is from a pro-Shia perspective which led to a clash of beliefs between the two major sects of Islam. The Sunnis, the most outraged group, believe this film pushes an "incorrect" portrayal of historical facts. One of the biggest problems was the depiction of Muhammad and his relatives in the film. The visual depiction of the prophet is understood to be blasphemous in most Sunni sects. The film also received backlash for the "demonizing" portrayal of revered Sunni figures. The massive protests in Bradford, Bolton, Birmingham, and Sheffield made Cineworld, a prominent cinema chain in the UK, cancel all The Lady of Heaven screenings. The chain stated, "Due to recent incidents related to screenings of The Lady of Heaven, we have made the decision to cancel upcoming screenings of the film nationwide to ensure the safety of our staff and customers." Following in the steps of Cineworld, another chain, Showcase, has withdrawn the film from all its outlets. The film has also been banned in Morocco, Pakistan, Egypt, and Iran.
Maldivian Atheist Arrested & Tortured for "Blasphemy" Against Islam
https://www.atheistrepublic.com/news/maldivian-atheist-arrested-tortured-blasphemy-against-islam
Location: Maldives
On September 10th, 2019, Mohamed Rushtum Mujuthaba, a leading atheist and human rights activist from the Maldives, was accused of producing blasphemous content against Islam on social media. Rushtum fears imprisonment on blasphemy charges at an upcoming court hearing on June 23rd. Rushtum is known for pointing out religious texts' irrational and dangerous aspects. In confinement, he was beaten, not provided with proper food and clothing, and told that the blasphemers were the greatest sinners. Mujuthaba was detained for more than six months without trial by the Maldivian authorities, in excess of his stipulated sentence, a clear violation of the international human rights law. The Maldivian Police performed psychological tests on Mujuthaba at various clinics to ascertain if he was mentally ill for his atheist and secularist views. He was also abused for not fasting during the month of Ramadan. He was even moved to a maximum-security unit in the death row section at one point. Amnesty International has urged the Maldivian authorities to release Rushtum and stated that "the actions against Mohamed Rusthum Mujuthaba contravenes international human rights law including the International Covenant on Civil and Political Rights."
Pixar Movie Banned Across the Islamic World due to Lesbian Kiss
https://www.atheistrepublic.com/news/pixar-movie-banned-across-islamic-world-due-lesbian-kiss
Location: UAE
On June 13th, the Media Regulatory Office of the United Arab Emirates (UAE) announced that Disney-Pixar's newest film, Lightyear, would be banned "due to the inclusion of homosexual characters." Lightyear is reportedly banned in 14 countries, including Saudi Arabia, Kuwait, Lebanon, Egypt, Malaysia, and Indonesia. The same-sex kiss in Lightyear was supposed to be excluded from the final cut. Still, it was restored after the Pixar employees protested and sent an open letter criticizing Disney's response to Florida's anti-LGBTQ+ "Don't Say Gay" bill. Earlier this year, two movies, Doctor Strange in the Multiverse of Madness and The Eternals, faced similar restrictions as these films were denied screening in multiple Gulf countries over LGBT+ content. In most Gulf countries, same-sex relationships are seen as a criminal offense that may be punishable by death. 
Atheist Republic Fundraising Now on Instagram!
https://www.instagram.com/p/Ce8AShDgBqB/
Contributing to the work of Atheist Republic is now conveniently available through your mobile phone! If you open the Instagram app on your mobile phone and go to the @AtheistRepublic page, you will see a donate button underneath the account bio. One amazing feature is that the platform will cover the cost of transactions, so your donation will be going towards supporting our community and not service fees. You can also create your own fundraiser for Atheist Republic by adding it to your posts (the button to do this can be found below where you would click to tag a friend before publishing a post), or by adding donate buttons to your Instagram stories. Even if you can not afford to make a donation yourself, this is a great free way to spread Atheist Republic's message!