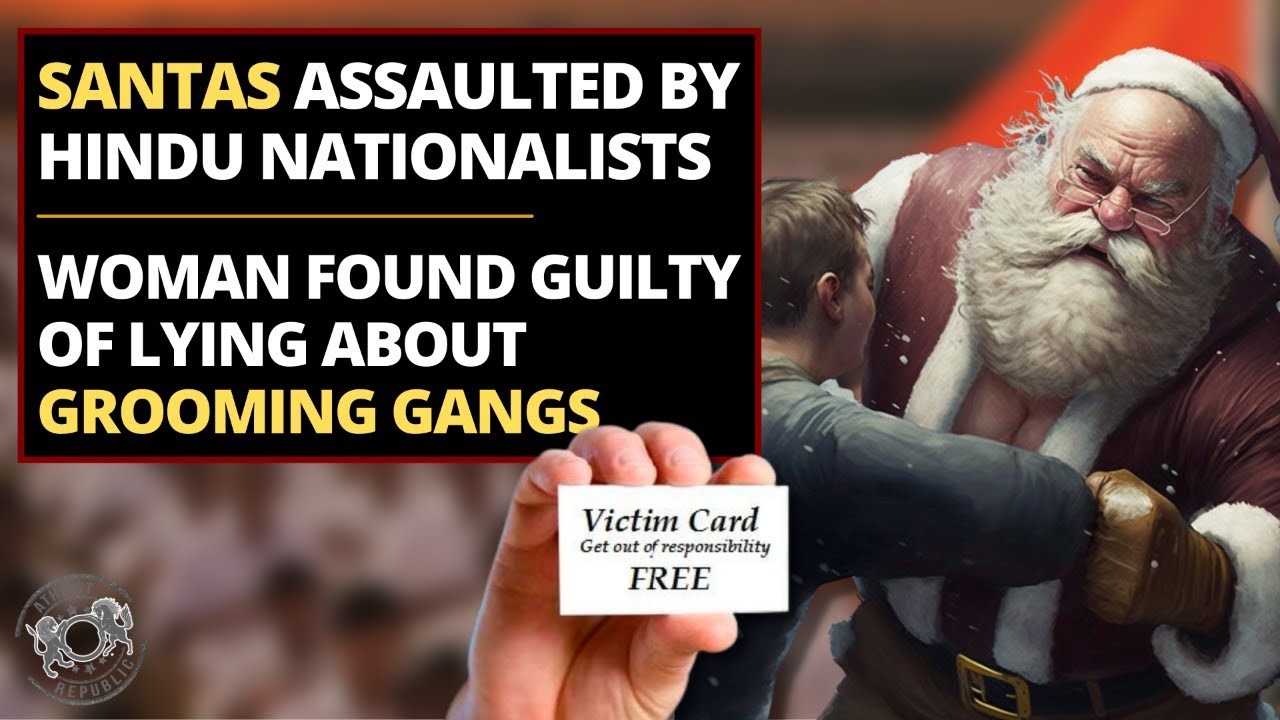 Santas Assaulted by Hindu Nationalists at Indian Carnival
https://www.atheistrepublic.com/news/santas-assaulted-hindu-nationalists-indian-carnival
Location: India
Hindu nationalists in India beat up a group of Santa Clauses on December 23 who were handing out Christian books and chocolate at a zoo in Ahmedabad, India. The group, known as the Bajrang Dal, accused the Santa Clauses of religious conversion and told them to "go back" to their churches. The video of the incident where two men wearing the costume of St. Nick get beaten up went viral on social media platforms. Javalit Mehta, the president of North Gujarat Bajrang Dal, said, "When we went there to protest against the people who were doing religious conversion activity, there was a clash with some of them." India is currently facing an upsurge in targeted attacks on Christians, churches and missionaries over allegations of coerced conversions. Similar incidents have happened during the festive season across the country, including church vandalizations, police reports against pastors, and attacks on villages.
Fake Victim: Woman Found Guilty of Lying About "Grooming Gangs"
https://www.atheistrepublic.com/news/fake-victim-woman-found-guilty-lying-about-grooming-gangs
Location: United Kingdom
Eleanor Williams, a 22-year-old woman from Barrow-in-Furness, was arrested for making false rape allegations against a series of white men and fabricating stories about being trafficked by a Southeast Asian grooming gang, playing upon fears surrounding the real and tragic phenomenon of the "Rochdale grooming gangs." In May 2020, Williams made a Facebook post that claimed she had been abducted, beaten, and raped by a group of men and taken to "sex parties." The post led to the creation of a Facebook group called "Justice for Ellie" and a crowdfunding campaign that raised £22,000. However, investigations revealed that most of Williams's allegations were false and her injuries were self-inflicted. Williams's accusations led to the rise of anti-Muslim hate crimes and anti-Asian sentiment in Barrow and the formation of a far-right group called Patriotic Alternative. Ellie's post also ruined the lives of the men she accused; it ruined businesses, destroyed marriages, forced others to move repeatedly, and pushed some to attempt suicide. Williams is scheduled to be sentenced in March.
"Islam Was Born With The Seed Of Civil War" Decries German-Egyptian Scholar
https://www.atheistrepublic.com/news/islam-was-born-seed-civil-war-decries-german-egyptian-scholar
Location: Egypt
In an interview with Brother Rachid, a Moroccan Christian televangelist, German-Egyptian academic and political scientist Hamed Abdel-Samad declared that Islam was distorted from the beginning and was "born with seeds of civil war." He argues that Islam was already perverted since it was founded in 610 AD and that seeds of civil war were planted in Islam. "It put forward great slogans but failed to come up with a program for coexistence between nations," Abdel-Samad stated in the interview. He also argued that implementing the Sharia law in nations such as Afghanistan, Iran, and areas under the control of Boko Haram and ISIS did not develop ideal societies and that Gulf states, once the champions of Sharia, have primarily abandoned Sharia law since it did not serve their economic interests. "Islam and its shari'a are dwindling," Abdel-Samad asserted. "Show me Islamic countries that are not using 'usurious' banks. What Islamic countries are not using camera lenses? Didn't they say that photography is haram, according to shari'a? Everybody is filming. Even the Salafis are posting videos on TikTok," he added. Both Hamad Abdel-Samad and Brother Rachid are ex-Muslims and public critics of Islam.
Imam's Demand that Wives Must Accept "Invitations to Bed" Sparks Outrage
https://www.atheistrepublic.com/news/imams-demand-wives-must-accept-invitations-bed-sparks-outrage
Location: Cyprus
A Turkish mufti (Muslim religious scholar) has sparked controversy among Turkish Cypriots after suggesting that women should fulfill their duty to their husbands by accepting their "invitation to bed," believing that his statement was a sign of imported encroachment of fundamentalist Islam in their secular community. Ahmet Unsal, the head of the Turkish Cypriot Department of Religious Affairs appointed by Turkey, reportedly stated during a lecture about marriage obligations that women should marry without hesitation and bear children because matrimony "isn't about having fun." Unsal also urged women to avoid other men except their husbands to "protect their virtue" and safeguard the properties of their husbands. He also said that men should pay for their wives' necessities, adding that Allah detests divorce. The Turkish Cypriot community did not receive Unsal's message well, and hundreds of demonstrators, 46 trade unions, and even politicians took to the streets to protest against Unsal's statements. Dogus Derya, a well-known female lawmaker joined the protests and told Unsal that they don't live in a theocratic regime similar to Afghanistan or Iran. She criticized him for presenting "his fantasies about subjugating women as the word of Allah" and argued that religious laws have no place in a secular community.
Global Christian Persecution Hits 30-Year High
https://www.atheistrepublic.com/news/global-christian-persecution-hits-30-year-high
Location: Global
As the religious liberty organization, Open Doors marks its 30th anniversary since it introduced the World Watch List compiling the 50 countries where Christians are persecuted the most, many Christians in several countries face more persecution than ever. According to the 2023 World Watch List, compiled by the religious liberty organization Open Doors, North Korea is the most dangerous country in the world for Christians. Afghanistan was at the top of the list last year but has dropped to ninth place this year. Somalia, Yemen, Nigeria, and Pakistan also feature highly on the list. The World Watch List, created in 1993, ranks countries based on six categories in which Christians face the most discrimination and persecution: private life, family life, community life, levels of violence, and national life. The United States is not included on the list, despite concerns from some American Christians about discrimination and a "culture war" in the country. "I would say to American Christians that relative to many, many, many places in the world, you have extraordinary freedom," said Lisa Pearce, the interim CEO of Open Doors U.S. "Use it well."
Mannequins in Kabul Must be Hooded & Masked Per Taliban Rules
https://www.atheistrepublic.com/news/mannequins-kabul-must-be-hooded-masked-taliban-rules
Location: Afghanistan
The Taliban's Ministry of Virtue and Vice in Afghanistan ordered sellers to remove mannequins from their shops or behead them in 2021, based on an Islamic doctrine forbidding statues and images in human form. Some sellers followed the rules, while others pushed back, claiming that they would be unable to display their clothes correctly or would need to destroy valuable mannequins. The Taliban then amended the decree to allow shopkeepers to keep their mannequins as long as their faces were covered. This has resulted in dress shops in Kabul displaying mannequins covered in black plastic bags, aluminum foil, or pieces of cloth. The policy posed a challenge to shopkeepers, who needed to obey the strict law and simultaneously attract customers to their shops. "When I see them, I feel that these mannequins are also captured and trapped, and I get a sense of fear," an Afghan woman named Rahima told the Associated Press. "I feel like I see myself behind these shop windows, an Afghan woman who has been deprived of all her rights."
New "Love Jihad Hotline" Launches in India
https://www.atheistrepublic.com/news/new-love-jihad-hotline-launches-india
Location: India
The Vishwa Hindu Parishad (VHP), a Hindu-nationalist organization, has launched a helpline in Mangaluru, India, for women who are alleged victims of forced religious conversion or interfaith marriages, referred to as "Love Jihad." The helpline purports to provide legal and medical assistance, counseling, and rehabilitation to the victims and their family members. The helpline is operated by a 20-member team consisting of counselors, doctors, and other volunteers. "Many Hindu girls have been converted to Islam, killed, and used to smuggle drugs in the name of love. We have seen all this in coastal Karnataka for many years. That's why, to prevent all such incidents, we have started this 'Love Jihad Helpline, ' which can be accessed by anyone who has been trapped in the Love Jihad," said Pradeep Saripalla, the publicity head of VHP. The term "Love Jihad" is controversial and refers to an alleged phenomenon where Muslim men lure Hindu women to convert to Islam through various methods such as seduction, deception, and marriage.
Man Ordered to Remove "Jesus is the Only Way" Shirt at Mall of America
https://www.atheistrepublic.com/news/man-ordered-remove-jesus-only-way-shirt-mall-america
Location: United States of America
A video of a confrontation between a man and security guards at the Mall of America went viral online after the guards asked the man to remove his t-shirt, which read "Jesus is the only way". The video shows the guard telling the man, Paul Shoro, that his t-shirt is offensive because it is religious and associated with religion, and it's offending people. The guard also said that "people have been offended" by the shirt. He gave the man the option to take off the shirt or leave the mall. The mall's website states that they do not allow visitors wearing "apparel that has obscene language, obscene gestures or racial/religious/ethnic slurs that are likely to create a disturbance." Critics argued that Shoro's t-shirt was offensive because it crossed out the Coexist logo, implying intolerance against religions other than Christianity.
SCOTUS to Hear Christian Postman's Discrimination Case Over Sunday Work
https://www.atheistrepublic.com/news/scotus-hear-christian-postmans-discrimination-case-over-sunday-work
Location: United States of America
On January 13th, the US Supreme Court agreed to consider a case of religious discrimination filed by Gerald Groff. Groff, a Pennsylvania mail carrier, sued the postal service in 2019. Being an evangelical Christian, Gerald refused to take shifts on Sundays. Initially, he was reassigned to a branch that had no Sunday shifts to accommodate his needs. However, the new branch also started assigning him Sunday shifts. He was told to find co-workers willing to take his Sunday shifts, but his co-workers became resentful of the extra shifts. The post office implemented a "no exceptions" rule pertaining to Sunday shifts, which Gerald ignored. He did not show up for more than two dozen assignments. Gerald eventually quit the job and sued the postal service. The court ruled that Groff was treated no different than other employees and that "Sunday service was necessary to the Post Office's business." The court sided with the Postal Service, noting the 1977 case, TWA vs. Hardison, which ruled that employers do not have to offer religious accommodation if it created an "undue hardship" on the employer. Groff's lawyers appealed the decision stating that "No American should be forced to choose between their religion and their job." It is assumed that Gerald's lawyers will try to get the Supreme Court to overrule the judgment.
Day of Action for Persecuted Atheist Soheil Arabi on February 4th!
The Coalition for the Political Sponsorship of Soheil Arabi has announced an international day of action to support imprisoned Iranian atheist Soheil Arabi! On February 4th, the International Day of Human Fraternity, gather in rallies and/or post photos holding signs with the hashtags #FreeSoheilArabi, #SoheilArabi, & #FreePoliticalPrisonersinIran. Share your support by recording messages for Soheil, & writing letters to your elected representatives. Show your solidarity for the cause. It is critical that we in free and safe societies act as the voice of atheists who are persecuted for their dissent!