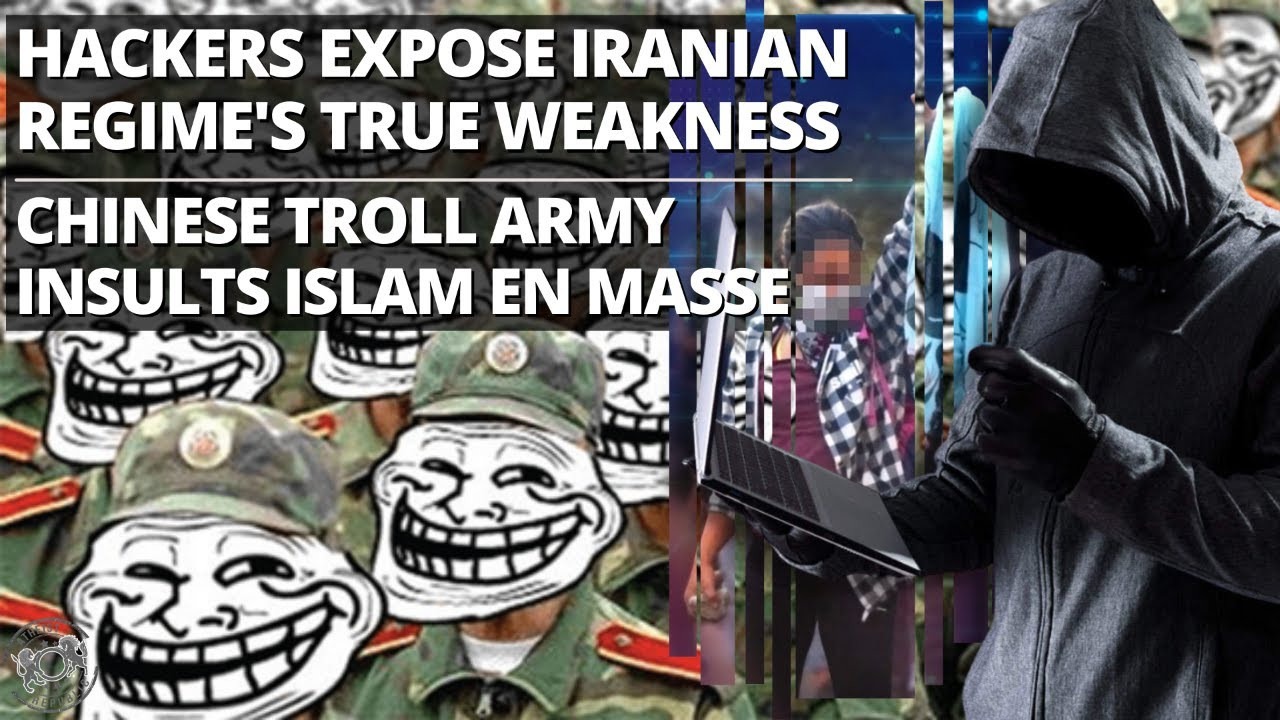 Shocking Leaks from Hacker Group Expose Iranian Regime's True Weakness
https://www.atheistrepublic.com/news/shocking-leaks-hacker-group-expose-iranian-regimes-true-weakness
Location: Iran
Recently, Black Reward, an Iranian hacktivist group, infiltrated the servers of several government offices and government-affiliated institutions. The group obtained documents, audio recordings, and videos showing the Iranian government's inability to suppress the ongoing protests. In an audio tape of a meeting between Qasem Qoreyshi, the deputy commander of the Basij paramilitary force under Iran's Islamic Revolutionary Guard Corps (IRGC), and media representatives, he spoke about workers strikes across Iran's 22 provinces, the fatigue the Islamic Republic's security forces felt in dealing with the demonstrations, and how the regime is being defeated in a "media war." They also discussed students in 62 universities across the country holding gatherings, with 11 others being the site of sit-ins against the regime. Another document featured a special bulletin created by media experts working for Hossein Salami, the commander-in-chief of the IRGC, showing how the Basij paramilitary force was weakened significantly and could not mobilize to quell the protests. Finally, Black Reward also leaked an embarrassing video showing one of the news editors of the Fars News agency masturbating to a video while smoking and eating potato chips. Since the beginning of the protests in Iran in September, Black Reward has worked with other hacker groups, such as Tepandegan, to encourage Iranians to participate in rallies against the Islamic Republic.
Chinese Troll Army Unleashes Tsunami of Insults & Blasphemy Against Islam
https://www.atheistrepublic.com/news/chinese-troll-army-unleashes-tsunami-insults-blasphemy-against-islam
Location: China
According to a report written by Theodoros Benakis for the publication European Interest, the Wumao army (also known as the "50 cent army"), known to be the internet trolls of the Chinese government, has hurt the religious sentiments of Uyghur Muslims on social media several times. The Wumao army is a group of internet critics hired by the authorities of the People's Republic of China (PRC) to spread information to the benefit of the governing Chinese Communist Party (CCP). Benakis explained that China is using "Islamophobia" to discriminate against Uyghur Muslims by promoting negative beliefs about Islam and therefore justifying the government's brutal policies towards Uyghurs. A policy of cultural genocide is underway in the so-called "Xinjiang Uyghur Autonomous Region" (XUAR), with the aim of creating "a unified China inhabited by a unified people." Chinese leader President Xijing Ping recently reaffirmed his commitment to Beijing's policies in the XUAR at a two-day party conference in September 2022. "Practice has demonstrated that the party's strategy for governing Xinjiang in the new era is entirely correct," he stated.
Islamic Preacher's Hilarious New "Fatwa" Pisses Off Football Fans
https://www.atheistrepublic.com/news/islamic-preachers-hilarious-new-fatwa-pisses-football-fans
Location: Egypt
As Egyptians continued to follow the 2022 World Cup in Qatar, an Egyptian Salafi leader, Younis Makhyoun, released a "fatwa" (religious edict) declaring that football is a "waste of time," sparking a debate in Egypt. Makhyoun stated, "Watching 22 men running after a…ball is a waste of time. A Muslim should not spend his time over the matters… [that] distract people from worshipping [God]." He continued, "People, who spend hours watching football matches, could use this time to do something righteous and beneficial such as reading parts of the holy Quran… Enemies of Islam used this game to distract people from our fellows in Palestine who are being killed every day. " He also criticized footballers such as Cristiano Ronaldo for not being good role models to children. Makhyoun is the former party president and chairperson of the Islamist and ultraconservative Al-Nour Party, which is loyal to current Egyptian president Abdel-Fattah El-Sisi, who is notorious for ruling with an iron grip.
Water Tank "Purified" With Cow Pee After "Untouchable" Woman Drank From It
https://www.atheistrepublic.com/news/water-tank-purified-cow-pee-after-untouchable-woman-drank-it
Location: India
On November 18th, upper caste Hindus in Karnataka, India, 'purified' a water tank with cow urine after a Dalit (the caste previously known as "untouchables") woman drank water from it. The woman was identified as Shivamma, who was passing through the village on her way to a wedding. Upon seeing her drinking water, Mahadevappa, a village leader, approached her, demanding to know her caste. He told her that people from Scheduled Castes must not drink from the tank. A video of the purification act was uploaded to social media the day after and quickly went viral, spurring a police investigation. V. Somanna, a legislative assembly member, said he would not tolerate such discrimination. On the 20th, officials from the social welfare department spoke to the villagers, telling them that the water tank was public property and was available to all. To demonstrate this point, officials gathered twenty Dalit youth and had them drink water from all public water sources in the area.
Pakistani Taliban Terminates Ceasefire with Government, Threatening Attacks
https://www.atheistrepublic.com/news/pakistani-taliban-terminates-ceasefire-government-threatening-attacks
Location: Pakistan
Recently, Tehreek-e-Taliban Pakistan (TTP), also known as the Pakistani Taliban, declared an end to a ceasefire agreement with the Pakistani government. The government and TTP reached a ceasefire agreement after multiple rounds of talks facilitated by the Afghan Taliban this year. After their recent announcement, the TTP commanded their fighters to carry out attacks all over the country. TTP stated that their primary reason for carrying out the attacks is the Pakistani military's increasing operations against them in Khyber Pakhtunkhwa province (KP). The Pakistani government or military did not comment regarding the TTP's declaration. On November 16th, the Pakistani Taliban claimed responsibility for attacking a police patrol in Lakki Marwat, southwest of Peshawar, KP's capital and largest city. Six policemen were killed during this attack. Pakistan's Prime Minister, Shehbaz Sharif, said that terrorism remains one of Pakistan's largest problems after the attack.
Turkish Sex-Cult Leader Sentenced to 8,658 years in Prison
https://www.atheistrepublic.com/news/turkish-sex-cult-leader-sentenced-8658-years-prison
Location: Turkey
On November 16th, Adnan Oktar, a former Turkish televangelist and sex cult leader, was sentenced to a record 8,658 years in prison following a retrial. Oktar was imprisoned in 2021 for several crimes, including sexually abusing minors, fraud, and attempted political and military espionage. Oktar achieved international recognition for the talk show he hosted on his A9 TV channel, which usually featured an unusual combination of religious discussions with women in skimpy outfits dancing to modern pop music. The women were known as the "kittens" and were the most important supporters of his movement. Former members of his organization revealed the constant sexual abuse they endured while they were part of his group and the repeated harassment they dealt with after leaving it. Many women who left his company claimed he forced them into sexual slavery. One woman previously provided testimony at his trial that Oktar sexually assaulted her and many other women, and they were forced to take birth control pills. After a police raid, about 69,000 birth control pills were found in his home. However, supporters of Oktar claim that he is the victim of a political set-up.
California 'After School Satan Club' at Elementary School Triggers Christians
https://www.atheistrepublic.com/news/california-after-school-satan-club-elementary-school-triggers-christ
Location: California
Recently, an after-school program scheduled to begin in early December at Tehachapi's Golden Hills Elementary School in California received severe criticism. Some guardians and parents claimed that this shouldn't be allowed. The "After School Satan Club" project, sponsored by The Satanic Temple (TST), aims to teach students about inquiry, empathy, and rationalism. TST began the After School Satan Club project after the "Good News Club," hosted by the Child Evangelism Fellowship (CEF), was allowed to preach the gospel of Jesus Christ to children at public schools. Sheila Knight, whose grandchild is a fifth grader at Golden Hills, criticized the decision and called the After School Satan Club disgusting. "I understand the school by law has to allow them because they allow other after-school programs such as the Good News … but I can't imagine why anyone would want their child to attend," she said. June Everett, an After School Satan Club campaign director, said "The fact that others find our club controversial when they have absolutely no issues with the other religious clubs operating in their public school is puzzling to us."
Christians are Now a Minority in England & Wales, Historic Poll Reveals
https://www.atheistrepublic.com/news/england-wales-are-now-less-50-christian-historic-poll-reveals
Location: UK
The results of the 2021 census were released by the Office for National Statistics (ONS), revealing a historically sharp decline in the number of people identifying as Christian in England and Wales (other regions of the United Kingdom, such as Northern Ireland and Scotland report their census data separately). According to the census, the number of people identifying as Christian in England and Wales fell from 33.3 million (59.3%) in 2011 to 27.5 million (46.2%) in 2021, a shocking 17% decrease. On the other hand, those who identify as Muslim rose from 4.9% in 2011 to 6.5% in 2021, making it the fastest-growing religion in England and Wales. Meanwhile, the number of non-religious people increased from 25.2% to 37.2%. Reacting to the latest data from the 2021 census, Archbishop of York Stephen Cottrell said that both regions "left behind the era when many people almost automatically identified as Christian." Stephen Evans, Head of the National Secular Society said, "It's official - we are no longer a Christian country."
First Annual #ExMuslimAwarenessMonth Announced!
https://www.atheistrepublic.com/news/first-annual-exmuslimawarenessmonth-announced
Recently, online ex-muslim activist "HaramDoodles" pioneered an online movement to celebrate December 2022 as the first-ever "Ex-Muslim Month." According to HaramDoodles, December is an excellent choice to celebrate Ex-Muslim Month since it follows November, which has been declared "Islamophobia Awareness Month." In an online interview with the Atheist Republic News Team, HaramDoodles said she's starting this movement because she is a closeted ExMuslim. HaramDoodles said that the idea of celebrating an Ex-Muslim month was started by a Reddit user from the Ex-Muslim Subreddit. The initial idea was to create an "Apostates Awareness Month in November to counter Islamophobia Awareness Month." She campaigned for a couple of months and formed a group of Ex-Muslim content creators, organizations, infidels, murtads, blasphemers, and apostates, who are ready to celebrate December as the first-ever Ex-Muslim Month. To join the celebration of Ex-Muslim Month, participants are encouraged to post content using the hashtags #ExMuslimMonth, #ExMuslimAwarenessMonth, and #ExMuslimAwarenessMonth2022. Closeted Ex-Muslims are advised to consider their safety before participating in the celebration.
Need Holiday Gifts for the Atheist in Your Life? We've Got You Covered!
https://www.atheistrepublic.com/store
Do you ever struggle to find gifts for your friends and family during the holiday season? Atheist Republic has got you covered with a huge selection of witty and poignant atheist-themed merch! We have everything from funny Jesus tee shirts to Satan-themed mugs. All of our original designs can be printed on a variety of products, including sweatshirts, tote bags, and mouse pads. Make sure to order now to receive it before Christmas! Check out the full store here.