Earlier this year, Black Skeptics Los Angeles (BSLA) spearheaded its First in the Family Humanist Scholarship initiative, which focuses on providing resources to undocumented, foster care, homeless and LGBTQ youth who will be the first in their families to go to college. Responding directly to the school-to-prison pipeline crisis in communities of color, BSLA is the first atheist organization to specifically address college pipelining for youth of color with an explicitly anti-racist multicultural emphasis. If current prison pipelining trends persist the Education Trust estimates that only "one of every 20 African American kindergartners will graduate from a four-year California university" in the next decade.
BSLA received applications from outstanding South Los Angeles students who are challenging racism, sexism, homophobia and injustice in their schools and communities. Thanks to generous support from individuals and organizations like Black Non-Believers of Chicago, American Humanist Association and Foundation Beyond Belief, our winning 2013 applicants below received $1000 scholarships to assist with their tuition, room/board, books and other academic resources. Scholars received their awards on July 13th in Los Angeles. Due to this year's success, BSLA is partnering with other secular organizations to make the scholarship initiative a national effort.
As part of their essay requirement for the scholarship, applicants were asked to talk about how Humanism related to social justice activism:
Jamion Allen, Washington Prep HS (El Camino College)

Jamion Allen, BSLA scholar
Over the past two years, Jamion has been one of the major voices in the Women's Leadership Project (WLP), Gay/Straight Alliance and No Haters clubs at Washington Prep. She is the recipient of a Youth Volunteer of the Year award from the County of Los Angeles for her outstanding leadership teaching workshops on school climate, homophobia, sexual harassment and women's rights. She would like to pursue law, politics and continue her activism for communities of color:
"In my experience doing peer education workshops, I often find that the homophobic views of young men of color are rooted in religious homophobic speech as well as the image that society sets that says it is wrong to be gay. I have come to believe that what is actually wrong is the acceptance of racist, sexist and homophobic depictions of ourselves. Humanism means freedom from the layers of lies we've been told to believe."
Philip Aubrey, King-Drew Medical Magnet (Babson College, MA)

Phillip Aubrey, BSLA scholar
King-Drew college counselor Lisa Golden writes of Phillip, "There have been few times in my 26-year career when exceptional brilliance has come in the form of a 17 year-old extraordinary package." Philip is a foster care youth and peer counselor with a 3.91 GPA who took six Advanced Placement courses (in Environmental Science, Calculus, Psychology, English and Government) during his senior year. He has shown leadership as a mentor of other young men and as an entrepreneur with his own small clothing line. This year he was a member of the UCLA VIPS scholar program and will attend Babson College this fall as a business major:
"One very important issue I would like to fix in my community is the matriculation rate of black and brown men. For the last two summers I have been at UCLA studying the barriers that inhibit minority males from advancing on to college. These barriers include gender congruency, incarceration rates and the list goes on of why black and brown males specifically have a harder time of going on to college. I plan to leave my footprint on Earth by creating a school which will cater to black and brown men and encourage the social, cultural and educational growth of every student at the school."
Hugo Cervantes, King-Drew Medical Magnet (UC Riverside)

Hugo Cervantes, BSLA scholar
Hugo is an undocumented youth and honors student who will attend the University of California, Riverside in the fall. He is a member of Nuestras Raices, an organization that provides music and dance classes to children and young adults. Hugo has performed at the James Armstrong Theatre, Disneyland, and other venues. He also volunteers in the classroom as a teacher's aide. Hugo aspires to be a novelist and receive a Fulbright scholarship, like his inspiration Sylvia Plath:
"The freedom riders' brave rides through the Deep South for equality and today's LGBT and DREAMer movement are examples of humanism: fighting for equality through vehicles of compassion...Hate can be broken through compassion--the profound self-realization that we are all equal and deserve to be treated equal."
Victory Yates, Washington Prep HS (California State University, Long Beach)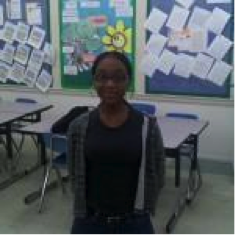 Victory Yates, BSLA scholar
Victory is a former foster care youth and Women's Leadership Project activist. She graduated from Washington Prep High School with honors and was a member of Legacy Ladies, ASB Leadership and several other youth leadership organizations on campus. After graduating from CSULB she would like to pursue a career as a juvenile justice attorney and advocate:
"As a senior at Washington Preparatory High School, I've found that violence, low expectations, and destructive behavior are normalized. No one thinks twice when they see or hear young women verbally abused by the violence that engulfs our school or community. I don't feel safe because of the indecent behavior some men exhibit and the way they treat young women like prostitutes. Recently, a woman going to the carport in my apartment got raped. My future non-profit organization will set out to empower youth of color so they can live better lives and advance their communities. I want to transform low-income communities into safer places, places where youth will no longer admire gangs and youth will rise above drug use and abuse. As a believer in humanism, I think that it's everyone's moral obligation to address these injustices. I'm proud to have been involved with the Women's Leadership Project. I became involved because I just can't sit idle."